Tracking, Medications, and More for Travel Guide
Prefer to listen? Check out the audio recording of this lesson.
Calibrate is built to flex and stretch with the realities of your life, and that includes travel or other life interruptions. This is important because when you're building your metabolic health foundation, every day matters.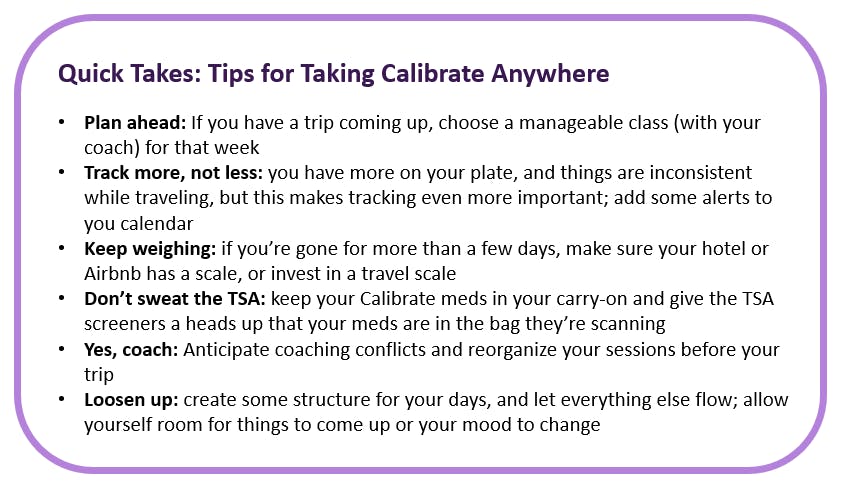 Even as you're working toward "mostly good," not perfection (if you haven't reached that lesson yet, take a look at the Mostly Good Guide to see what we mean), continuing to show up for your health and your pillars every day creates a framework that's built to last for sustained health. 
Consistency with  tracking and weighing yourself makes these habits more intuitive and helps you see how they affect each other over time. Likewise, for as long as the medical team recommends that you take medication, doing so regularly ensures that you maintain the intended shifts to your biology and move toward the best possible results.
This guide is your playbook for how to keep up with the different facets of your program when you're away from home or even just out of your regular routine. Here, we'll walk you through how to handle classes, tracking, weighing, medication, and coaching.
What to do about class goals
We know that travel can be busy and unpredictable, so you might not necessarily be bringing your A-game while you're on the road. Just as importantly, even if you're committed to keeping up completely, mid-trip might not be the best time to undertake a big goal or the Metabolic Jumpstart Challenge. 
Luckily, Calibrate accounts for real-life factors like this, and your big-picture progress will continue despite a few days or weeks when the best you can do is somewhat less than usual—provided you keep going with the key habits we outlined in the intro. 
Importantly, if you're going to be on the road, let your coach know you have a trip coming up in the session before your trip. This way, you can work together to make sure you're set up for success.
What to do about tracking your core habits 
As much as you're able, continue tracking on the Calibrate app. Beyond maintaining habits and sustaining progress, there are big benefits here in the form of getting a window into how the trip (or other change to your regular routine) is affecting you. Getting a bird's eye view at how your habits are changing in relation to your energy can reveal simple tweaks to help you feel better overall.  
Keep in mind that it will probably be harder to remember and make time for tracking than it is at home where you're in a regular groove, so consider setting some new daily calendar alerts on your phone. You can also prime yourself for success by refreshing yourself on the Tracking Habits Guide. 
Bookmarking the Finding Your Baseline Guide and Getting Back on Track Guide is a wise idea, too, so that in case you have a rough day en route or at your destination, you'll have some go-to materials to help bring you back to center. If you're worried about food, in particular, you can always also do a few days of the photo food journaling activity (here's the Eating with Mindfulness Guide, for reference). For creative ways to get moving, you can also tap into the Making Time for Exercise Guide. 
Lastly, if your travels take you off the grid, remember you can keep tracking on paper and enter your information when you return or check into wifi. (You can track or edit metrics from previous days by navigating from the home screen of the app to the tracker that you'd like to update, and then selecting the entry that you'd like to edit. Once you've changed the value, press save. Note: you can edit entries from the previous 30 days as long as they haven;t been verified by the team.) Remember, your tracking isn't about "right or wrong" or "good or bad," it's information—and the more you learn about how different habits affect your weight, health, and wellbeing, the more you'll be empowered to live into the new day-to-day you're working toward.
What to do about weight
Clearly, lugging a scale around is a hassle. So if your trip is less than a week, it's okay to leave it at home (we realize carry-on bags can only fit so much!). If you're going for more than seven days, however, we do encourage you to travel with a scale to keep up your regular rhythms and stay accountable to your body. 
When this is the case, you may want to consider investing in a travel scale, or calling ahead to your hotel or AirBnb hosts to ask whether they have a scale available for your use. (If you decide to go with one of these options, you would enter your weight into your app manually.)
What to do about medications
It's important to keep up with your metabolic medications, so plan ahead for how to travel with them. While refrigeration is important for extended storage, most GLP-1s are safe at room temperature (up to 86°F) for at least 2 weeks (see FAQs for medication-specific instructions). This means that provided you will use your medication within this timeframe, it's perfectly fine to keep them at room temperature for the duration of the trip. 
That said, you also don't want to leave them in a hot car for hours on end. So if you're headed somewhere very warm and where air conditioning may be spotty, you might want to take along a TSA-approved PackIt or a small Yeti cooler—just throw a Ziploc inside that you can pack with ice and change out as you go. 
Finally, if you're flying, we suggest packing your meds in a carry-on rather than in checked baggage, in case your bags are lost or delayed. Jet lag makes many people forgetful, so you can also set a calendar alarm to remind you to take your dose. Don't worry about getting a doctor's note for the TSA—a note is not required to travel with GLP-1 medications. You should, however, declare your meds to the TSA officer in the security line, and making sure medications are labeled will help ensure the screening process goes smoothly.
What to do about coaching
When your travels conflict with your coach appointments, let us know as soon as possible. If you're moving through different time zones, we definitely don't want you waking up at 3 AM local time to make your appointment. Likewise, we know that when you're away from home you may not have full control over your schedule (or your wifi).
In all these cases, plan ahead by rescheduling your coaching session at least 48 hours in advance. You can do this by navigating to the Appointments tab to reschedule your next three coaching appointments or the entire coaching series.
Tips and strategies 
As you get ready for your trip, utilize Calibrate's The Four Pillars for Travel Guide to help direct your plans—when you read it, think about which suggestions you'd like to implement, and note if you need to add any advance preparations (like ordering groceries or downloading a sleep or exercise app) to your to-do list. Here, too, are four additional strategies to help set you up for success as you gear up to leave home. 
Travel is a time to think about maintaining your weight (rather than losing), so adjust your mindset toward holding onto the progress you've already made. You can pick up your progress, reinvigorated, when you get back home. 
It's okay to be a little looser than usual when you're on a trip—maybe you have a few more orange foods, or maybe you have an extra glass of wine. We want you to enjoy yourself, but we want you to feel good about where you're at when you return home, too. So identify one or two areas that you won't compromise at all (exercise and sleep are great choices for this), think of them as your support beams, and then allow yourself a bit of flexibility in the other areas. 
If you have bandwidth, check out the food, gym, and sleep situations where you'll be staying before you get there. If you really need your blackout curtain to get a good seven to nine hours of rest but you arrive to discover floor to ceiling windows with gauzy white drapes, that's hard to handle on the spot, but if you know the deal in advance, you can prepare accordingly.
Make plans—but not too many
Create some loose structure for your days, and let everything else flow. For example, you can commit to rising at your wakeup time and getting some movement and breakfast in, and letting the rest of the day unfold. 
Trips can be totally world-expanding, and if this is your first time away since starting Calibrate, it can be empowering to plan a trip that supports your health goals. Traveling can also be challenging. It's much harder to control variables on the go, and staying consistent with habits and practices can take more work than usual. As you prepare and embark with a plan for how you'll continue with Calibrate, you're taking one more step toward sustained health—and know that you're not going it alone, you have the Calibrate program to lean on. Enjoy safe and healthy travels!