By Pioneering Metabolic Health, We're Changing the Way the World Treats Weight
Like most Americans, I've spent too much of my life trying to understand how the ways I eat, sleep, exercise, and manage my stress impact my day-to-day. In the last few years I have learned that these behaviors contribute to my overall metabolic health—a complex interplay between biology, genetics, and environment that regulates how effectively we burn and store energy, the results of which we see and measure on the scale.
I became fascinated by these metabolic factors and behaviors in 2015, when I broke my back and pelvis while skiing. I obsessed over the tiny tweaks I could make, and the impact they had on my body's inflammatory response and healing process. I was working with incredible doctors, but within what sometimes felt like an archaic system that led me to more questions than answers. The experience led to an obsession over how healthcare could work harder to engage modern consumers and do better to keep us healthy.
By 2016, I had followed this passion and used my experience building beloved consumer brands to join the team at Capsule, the New York-based technology business reinventing the pharmacy experience. While I was there, my mother called me to ask for help finding a doctor who could help her get her metabolic health under control. I started researching, and the more I learned, the more obsessed I became with how consumer engagement could help us finally fix America's metabolic health crisis. 
Metabolic health determines what our internal health and balance looks like. Our metabolic systems are the complex combinations of organs, hormones, cells, and molecular messengers that connect our gut and brain. Importantly, when you have control over your whole metabolic system, you have control over how your body manages weight. If our healthcare system can better deliver on improving our underlying metabolic health, it will have taken a major step toward tackling what is America's most critical health epidemic: weight gain.
CONVENTIONAL WEIGHT LOSS DOESN'T WORK
Consumers and health plans each spend hundreds of billions of dollars a year battling weight issues, and Americans still gain 1-2 pounds per person every year. When it comes to the conventional weight loss wisdom that "all you have to do is eat less and exercise more," Calibrate Clinical Advisor and President of the World Obesity Federation, Donna Ryan, MD, tells us that "nothing could be further from the truth." 
Society tells us that obesity is a lifestyle choice ,  a matter of calorie-counting and willpower. But science shows us it's more complicated. Decades of clinical research—from a landmark trial published nearly 20 years ago to last year's study combining GLP-1 medications with behavior therapy—tell us that sustainable results are driven not by diets, but by holistic improvements to underlying metabolic health. 
The gap between need and care is also jaw-dropping: 175 million American adults are overweight, yet we only have 4,000 obesity-board certified doctors. These doctors have been effectively practicing weight loss medicine for decades through a combination of metabolic medications and lifestyle coaching. They can treat thousands of patients, but they have been unable to scale to millions.
Critically, the time to understand how we can fix our metabolic health is now: Metabolic health has been the key risk factor for COVID-19. Dariush Mozaffarian, MD, Calibrate Clinical Advisor and Cardiologist & Professor of Nutrition at Tufts recently wrote in a Boston Globe Op-Ed, "shocking rates of poor metabolic health — with nearly 9 out of 10 American adults unhealthy — is a major reason the COVID-19 crisis is so much greater than it needs to be."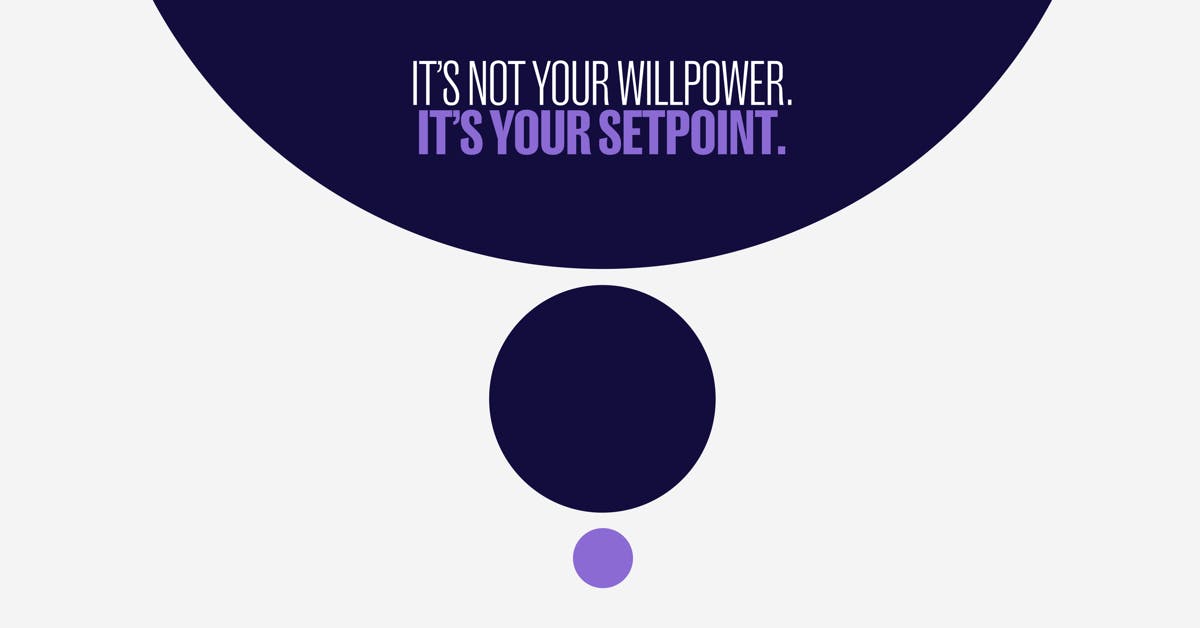 IT'S NOT YOUR WILLPOWER, IT'S YOUR SET POINT
In 2013, the American Medical Association made the decision—championed by Calibrate Clinical Advisor and Mass General & Harvard physician Fatima Cody Stanford, MD, MPH, MPA—to acknowledge obesity as a disease, catalyzing doctors and the rest of the healthcare system to begin treating it.
This moment should have opened up the floodgates for effective metabolic management, enabling the research and development of new medications and new therapies to treat obesity. But instead our epidemic got much worse: the number of Americans suffering from obesity has increased by more than 30% since 2013, and less than 2% of Americans who clinically qualify for medication are receiving it.
I started to understand why we hadn't solved this problem yet when I read an insight from Calibrate Clinical Advisor and University of Michigan Professor of Surgery & Nutrition Obesity Research Center Director, Randy Seeley, PhD, explaining the concept of set point. 
When traditional diets don't work and your weight plateaus, it's not because you need more willpower. If the number on the scale is stuck, it's because your brain is programmed to do everything it can to maintain a particular weight. That weight is called your "set point." It's determined by a complex interplay of biology, genetics, and environment—and it's why 80% of people who lose at least 10% of their weight will gain it back within the first year. 
Our current healthcare system didn't enable the combination of engaging behavior therapy with access to proven medications, so we designed Calibrate to fix this.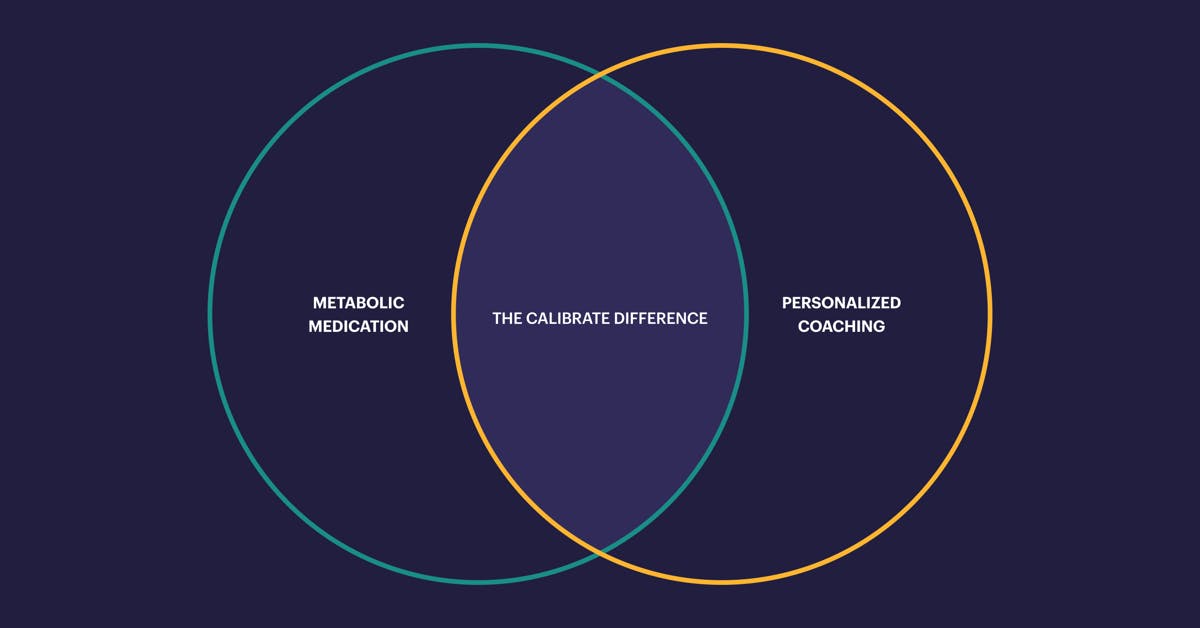 WEIGHT DOESN'T REFLECT WILLPOWER. IT REFLECTS THE METABOLIC SYSTEM. SO WE TREAT IT THAT WAY.
Meet Calibrate. We are a first-of-its-kind, science-based, entirely virtual metabolic reset that combines metabolic medication prescribed through telemedicine and one-on-one video coaching to target four proven pillars of metabolic health — food, sleep, exercise, and emotional health. 
Calibrate is personalized to your biology, your goals, and your life for a 10% weight loss that delivers success beyond the scale — whole-body health, from reduced disease risk to improved day-to-day energy and mood.
Our program is built on the latest weight health science, and is vetted and approved by our world-class Clinical Advisory Board, full of the very people whose research and policy work informed our most foundational understanding of how we could transform metabolic health. 
We're on a mission to change the way the world treats weight
For an audacious mission, we assembled an incredible team grounded in incredible values.
We are metabolic health and weight experts dedicated to solving the biggest medical issue of the 21st century by treating obesity from the inside out. 
We are coaches who cheerlead, support, and guide Calibrate members every day as they improve their relationships with food, sleep, exercise, and emotional health.
We are doctors who've seen firsthand that the traditional approach to weight loss isn't sustainable — so we helped create a program that is.
We are people who've been there. And now we're here for anyone ready to take the first step.
We are championing weight loss for a fuller life, not just a smaller size.
We believe in putting proven science to work and making it work for real people with modern, frictionless technology.
And we are grateful to have the support and partnership of Forerunner Ventures and Redesign Health in our mission. 
If you'd like to learn more or are interested in joining us, find us at joincalibrate.com or send me a note at isabelle@joincalibrate.com.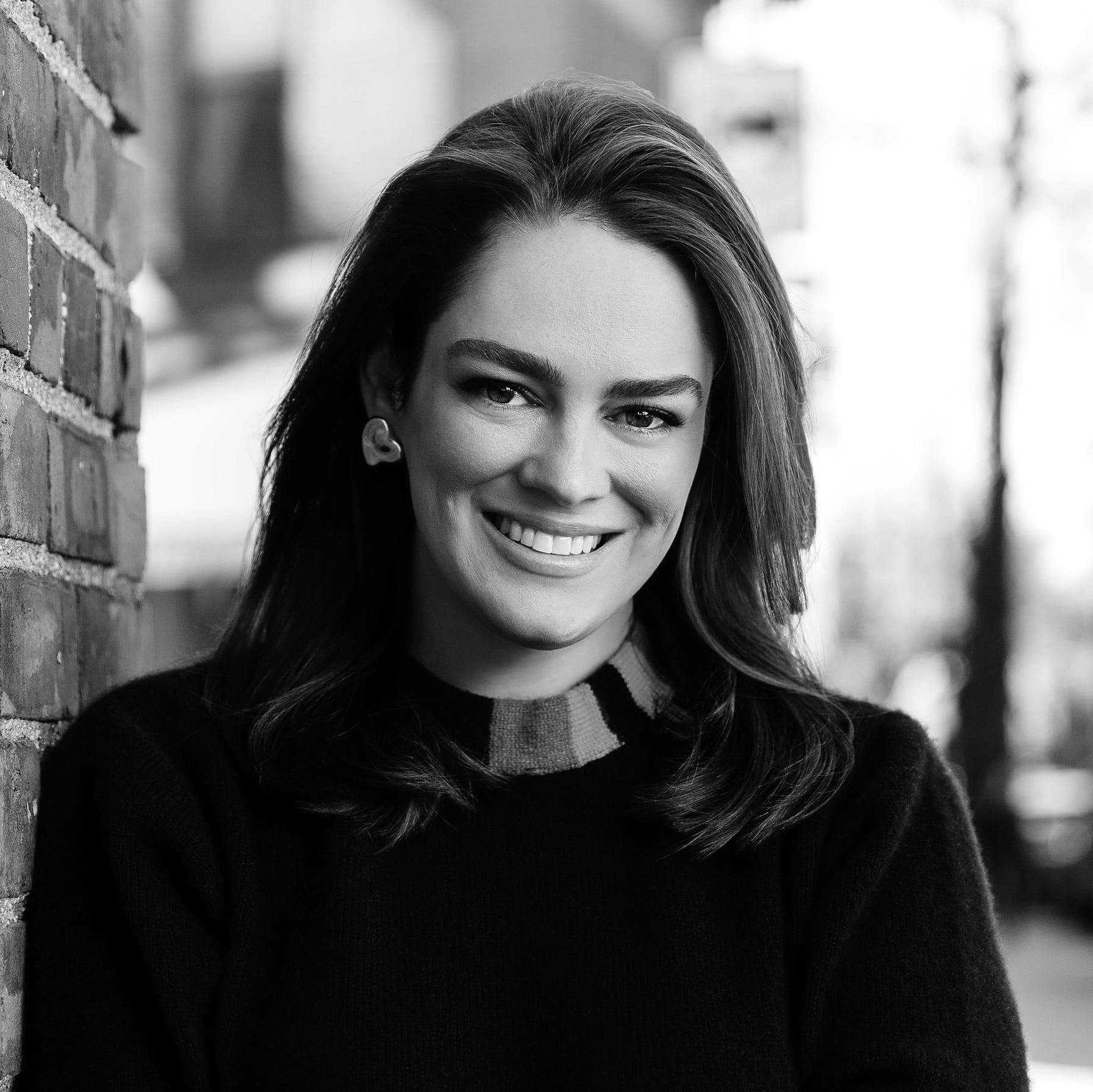 Isabelle Kenyon
Calibrate Founder & CEO
Prior to Calibrate, Isabelle led the business operations, growth, and strategic partnerships & communications teams at Capsule, a technology business that has raised $270 million to rebuild the pharmacy from the inside out. Before Capsule, Isabelle worked at beloved consumer brands in London and New York and was selected to the Forbes 30 Under 30 Retail & E-commerce list in 2015. She began her career as an investment banker in Hong Kong and graduated from the University of Pennsylvania.