Recipes for a Reset: April 2021
Inspired by cuisine from around the world, Calibrate Food Expert, Stephanie Middleberg, MS, RD, CDN, put together three light and airy recipes for breakfast, lunch, and dinner. These recipes are protein-packed, will satisfy you throughout the day, and are perfect to enjoy in the sunshine.
BREAKFAST
Almond, Vanilla, and Maple Waffles
Serves 4-6 (makes about 6 waffles)
Gluten-free, Dairy-free, Vegetarian
Yellow*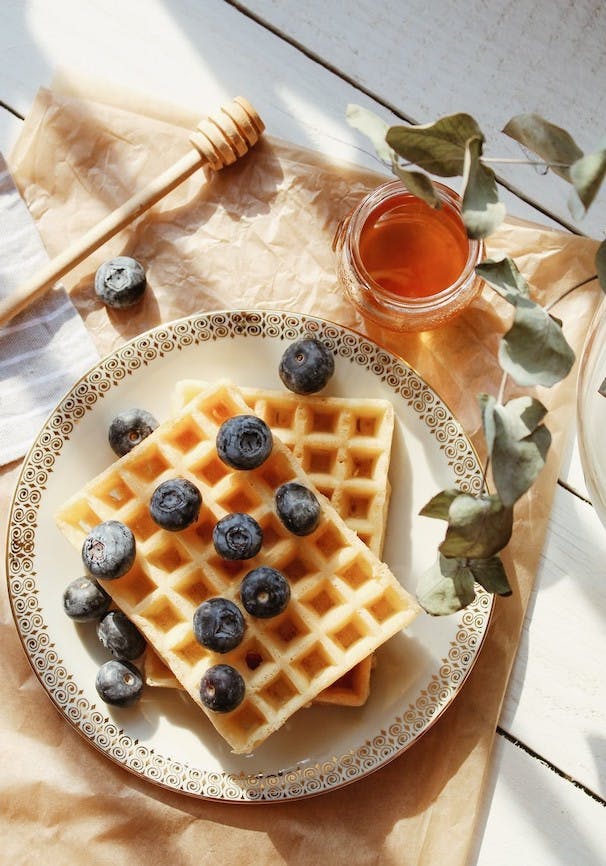 This is a grain-free take on a classic breakfast favorite. Refined flour is replaced with almond flour, which is much lower in carbohydrates. It's also rich in magnesium—a mineral that's involved in several processes throughout the body that have been linked to lowered blood pressure and improved blood sugar levels—as well as vitamin E, which can help repair damaged cells in the body (and is great for glowing skin, too).
Ingredients:
1 cup of almond flour
¼ cup + 2 tablespoons of tapioca flour
½ teaspoon of baking soda
Pinch of salt
2 large eggs
¼ cup of coconut oil (or grapeseed oil for a more neutral flavor)
1 teaspoon apple cider vinegar
1 teaspoon of vanilla extract
3 tablespoons of maple syrup
Directions: 
Preheat the waffle maker to medium-high heat. Before adding the batter, lightly spray the waffle iron with cooking spray, such as avocado or coconut oil. In the meantime, combine the almond flour, tapioca flour, baking soda, and salt in a medium-sized bowl. In a separate large bowl, whisk the eggs together, and then whisk in the coconut oil, vinegar, vanilla extract, and maple syrup. Pout the dry ingredients into the bowl with the wet ingredients and whisk until combined. Pour the batter slowly into the heated waffle maker and cook them until golden brown, according to your machine's instructions (usually this means when steam is no longer coming from the waffle maker). Serve with fresh berries and toasted coconut flakes if desired!
LUNCH
Ginger Sesame Snap Peas and Chicken
Serves 4
Gluten-free, Vegetarian option
Yellow-Green*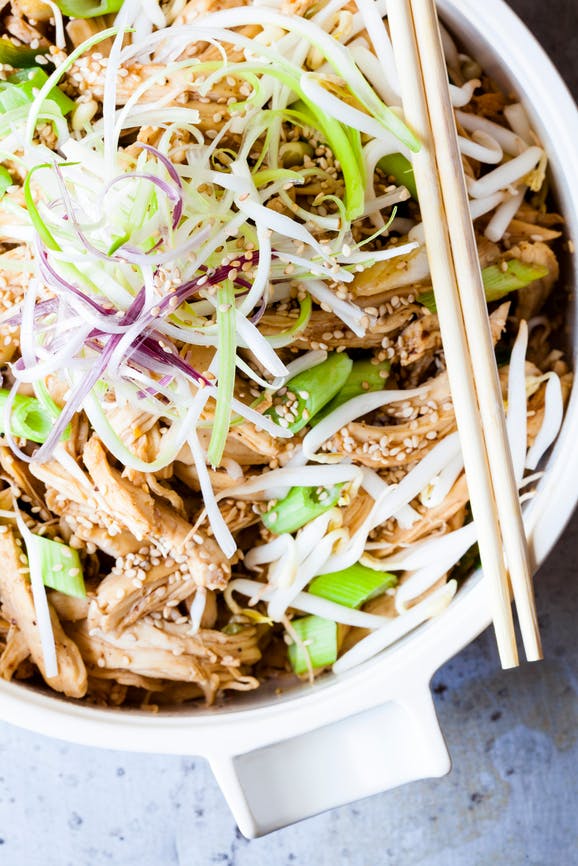 This dish is full of vibrant vegetables such as sugar snap peas, bell pepper, and carrots, all high in antioxidants.
Ingredients:
Chicken/Tofu*:
6-8 oz boneless chicken breast, shredded (or 8 oz of extra firm tofu*)
2 teaspoons of olive oil
3 cups sugar snap peas
1 cup bell peppers, julienned (cut into thin strips)
4 carrots, julienned
1/4 cup chopped cilantro
3 tablespoons chopped mint
2 tablespoons sesame seeds
Ginger Sesame Sauce:
3 tablespoons tamari
1 tablespoon olive oil
1/2 tablespoon sesame oil
1 tablespoon lime juice
1/2 tablespoon honey
1 teaspoon grated ginger
Directions:
Preheat the oven to 350 degrees Fahrenheit. Season the chicken with salt and pepper and rub with olive oil. Cook the chicken for 25-30 minutes. Once cooked, let it cool for about 10 minutes and shred the chicken with a fork. Set aside. With a small, sharp knife, remove the stringy center from the sugar snap peas. Then, julienne the bell peppers and carrots into long, thin strips. Chop the cilantro and mint, and set herbs and vegetables aside. In a small pan over low heat, add the sesame seeds and toast for 2-3 minutes, until golden brown, making sure not to burn them. For the sauce, whisk all ingredients together in a bowl and set aside. In a large serving bowl, add the chicken or tofu and vegetables, and pour in the dressing. Toss them all together, adding the herbs and toasted sesame seeds lastly on top.

*Note: Crispy Tofu Instructions
Preheat the oven to 400 degrees Fahrenheit and line the baking tray with parchment paper. Wrap tofu in a clean kitchen towel and put something heavy on top of it (like a cast iron pan) to allow excess moisture to be released. Cut tofu into small cubes and place them on the lined baking tray, baking for at least 25-30 minutes, until slightly crispy and dry.
Dinner
Mediterranean Halibut
Serves 4
Gluten-free, Dairy-free
Green*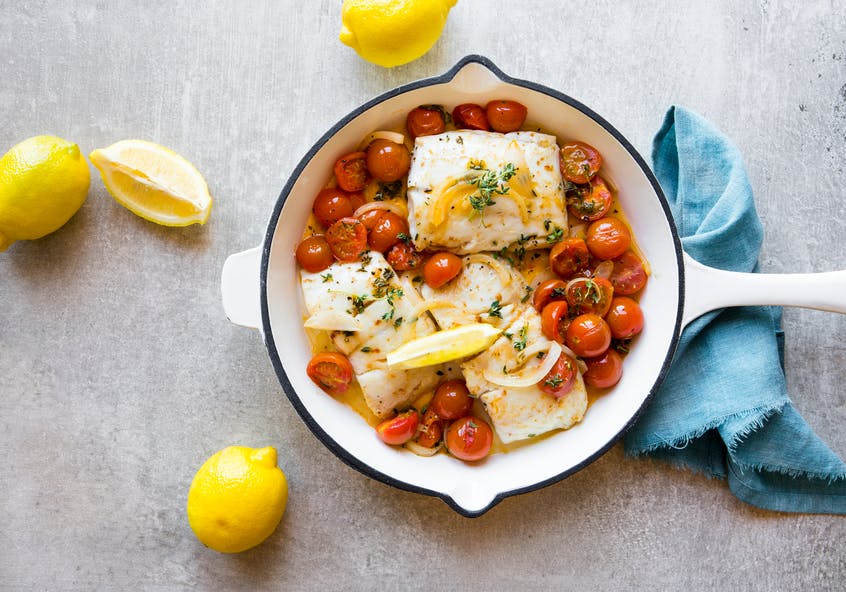 This simple Greek-inspired fish is light and flavorful. Halibut is rich in omega-3 fatty acids that benefit everything from eye and heart health and may help keep your mind sharp, too. The fish is infused with ingredients like tomato and capers, which provide a quercetin boost. Quercetin is a powerful antioxidant that may reduce inflammation in the brain by improving circulation, as well as protecting the brain cells from toxins. 
Ingredients: 
1 1/4 lb halibut, cut into 4 pieces
1 tablespoon + 3 teaspoons olive oil, divided
1 clove garlic, minced
1 cup cherry tomatoes, halved
1/4 cup kalamata olives, pitted and roughly chopped
1 tablespoon capers, drained
4 tablespoons white wine
Salt and pepper to taste
2 tablespoons basil, roughly chopped
Directions: 
Preheat the oven to 400 degrees Fahrenheit. In a pan over medium heat, add 1 tablespoon olive oil. Add the garlic, tomatoes, olives, and capers and cook for about 3 minutes, until softened. Cut four large squares of parchment paper and place each fish filet in the center of the paper. Add the tomato and olive mixture on top of the fish, and season with salt and pepper. Drizzle the remaining olive oil on top of the mixture, as well as 1 tablespoon of white wine on top of each of the fish filets. Fold the top of the parchment paper over the fish, crimping all the edges tightly so that there are no gaps. Place the fish pouches on a baking tray and cook for 8-10 minutes. Remove the fish from the oven, and cut open the top of the paper. Garnish with basil and serve the pouch directly on a plate, or remove the fish from the pouch and serve on a separate plate. 
*For Calibrate program members
Follow Calibrate on Facebook and Instagram to get upcoming recipes!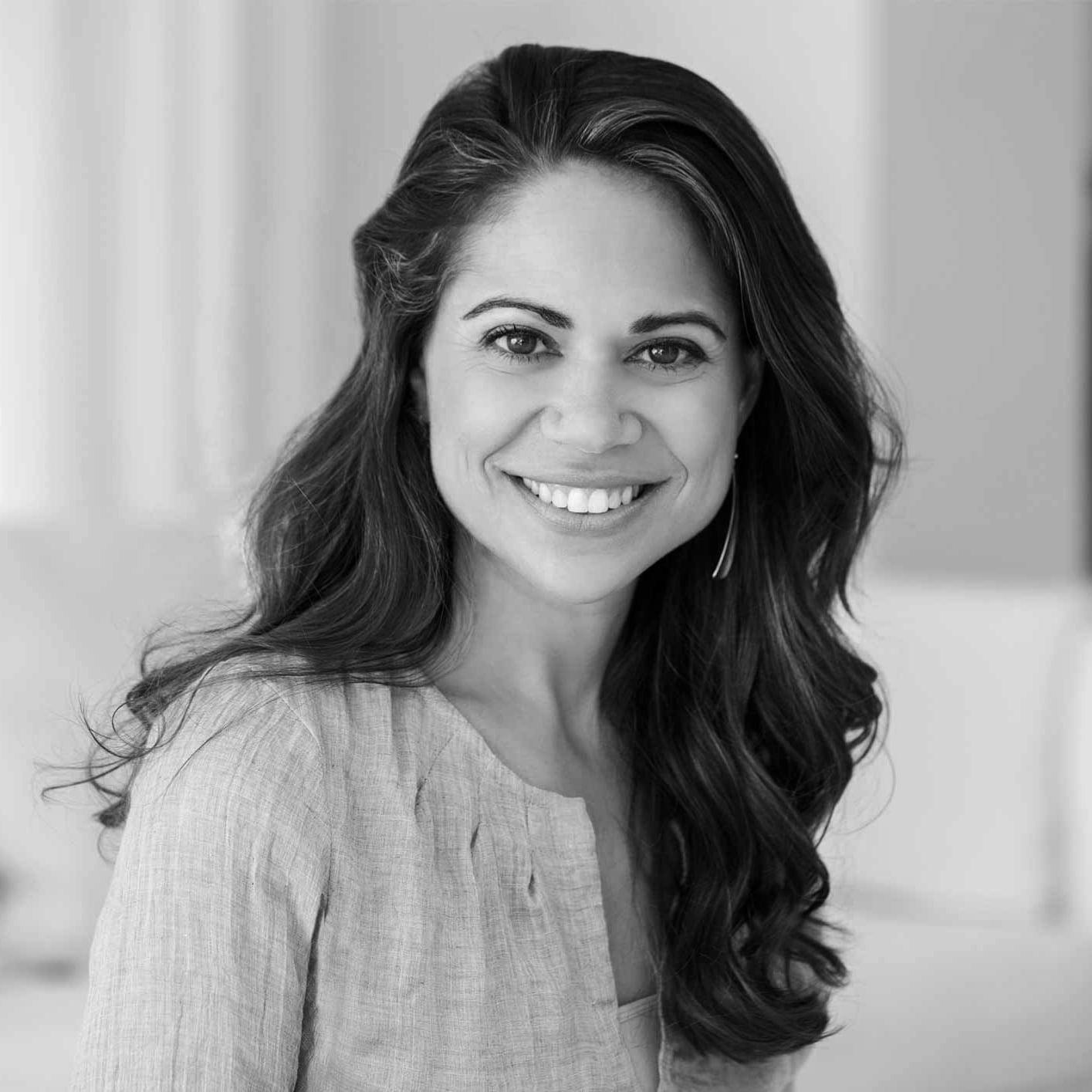 Stephanie Middleberg, RD
Calibrate Food Expert
Stephanie earned her Master's in Clinical Science and RD at New York University. She is the founder of Middleberg Nutrition, a health and wellness practice in New York City, and is the best-selling author of 'The Big Book of Organic Baby Food'.