Recipes for a Reset: June 2021
We asked Calibrate Food Expert, Stephanie Middleberg, MS, RD, CDN, to put together three refreshing recipes for breakfast, lunch, and dinner that are great to enjoy in the summer heat! 
BREAKFAST
Summer Smoothie Bowl
Serves 1-2
Dairy-Free, Vegan, Gluten-Free
Green*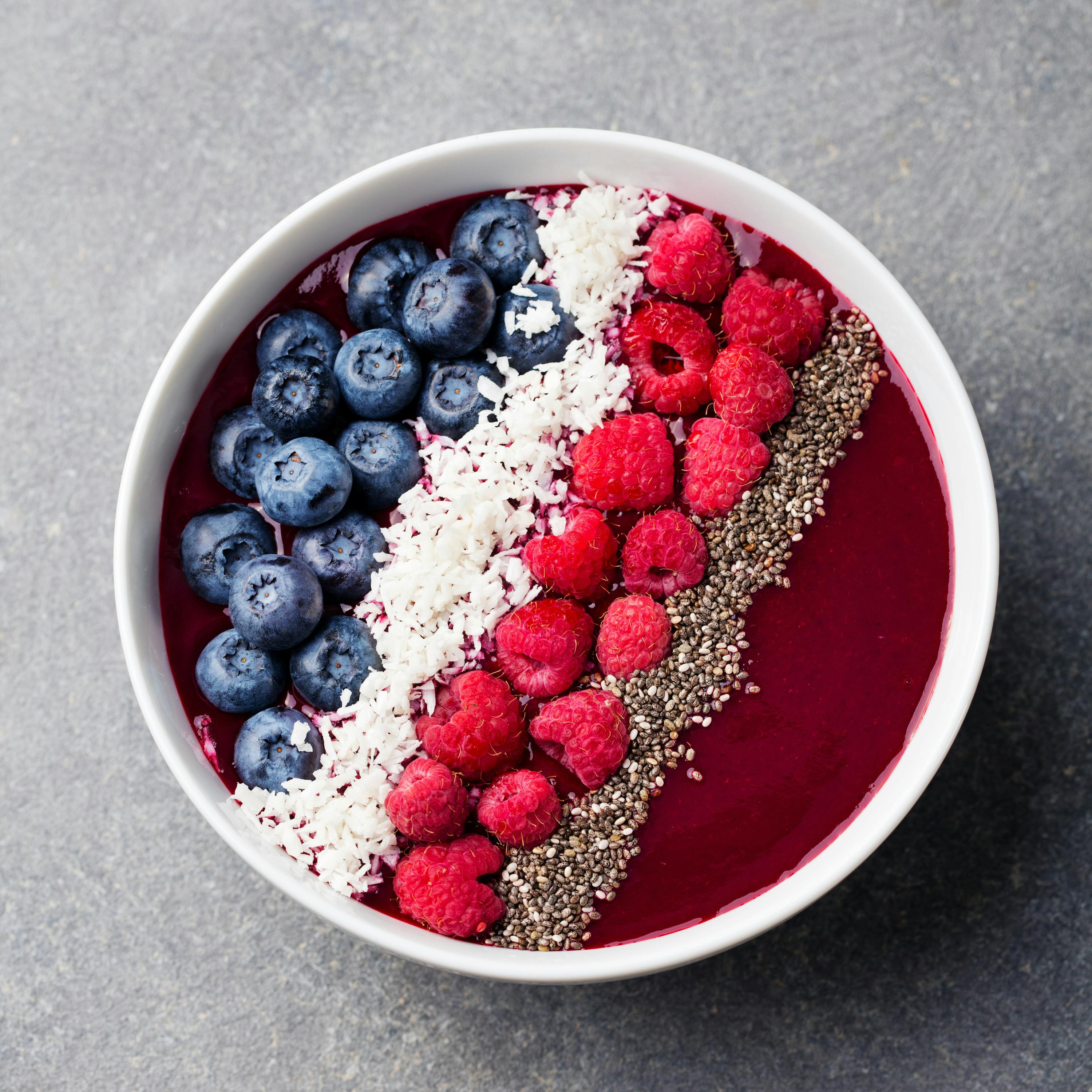 This smoothie bowl will keep you satisfied for hours thanks to its protein and fiber content. Banana, strawberries, and cauliflower are all good sources of fiber, which helps maintain good digestion and benefits overall GI health. This smoothie bowl is also high in vitamin C thanks to (once again) the addition of strawberries and cauliflower. Vitamin C promotes the formation of collagen for firmer, more youthful skin, as well as the repair of bodily tissues involved in wound healing.  
Ingredients:
¼ cup of plant-based milk, like almond or coconut milk (add more as needed)
1 scoop of vanilla protein powder (optional)
1 small banana, frozen
½ cup of frozen strawberries
¼ cup of frozen cauliflower (riced or florets)
*Toppings (optional):
1 tablespoon of shredded unsweetened coconut
1 teaspoon of chia seeds
1 teaspoon of hemp seeds
Directions: 
Add the milk, protein powder, banana, strawberries, and cauliflower to a high speed blender and blend until smooth. Add more milk if the mixture is too thick. Pour into a bowl and add toppings. Enjoy immediately!
LUNCH
Carrot Ginger Kale Salad with Roasted Chickpeas
Serves 2-4
Dairy-Free, Vegan, Gluten-Free
Green*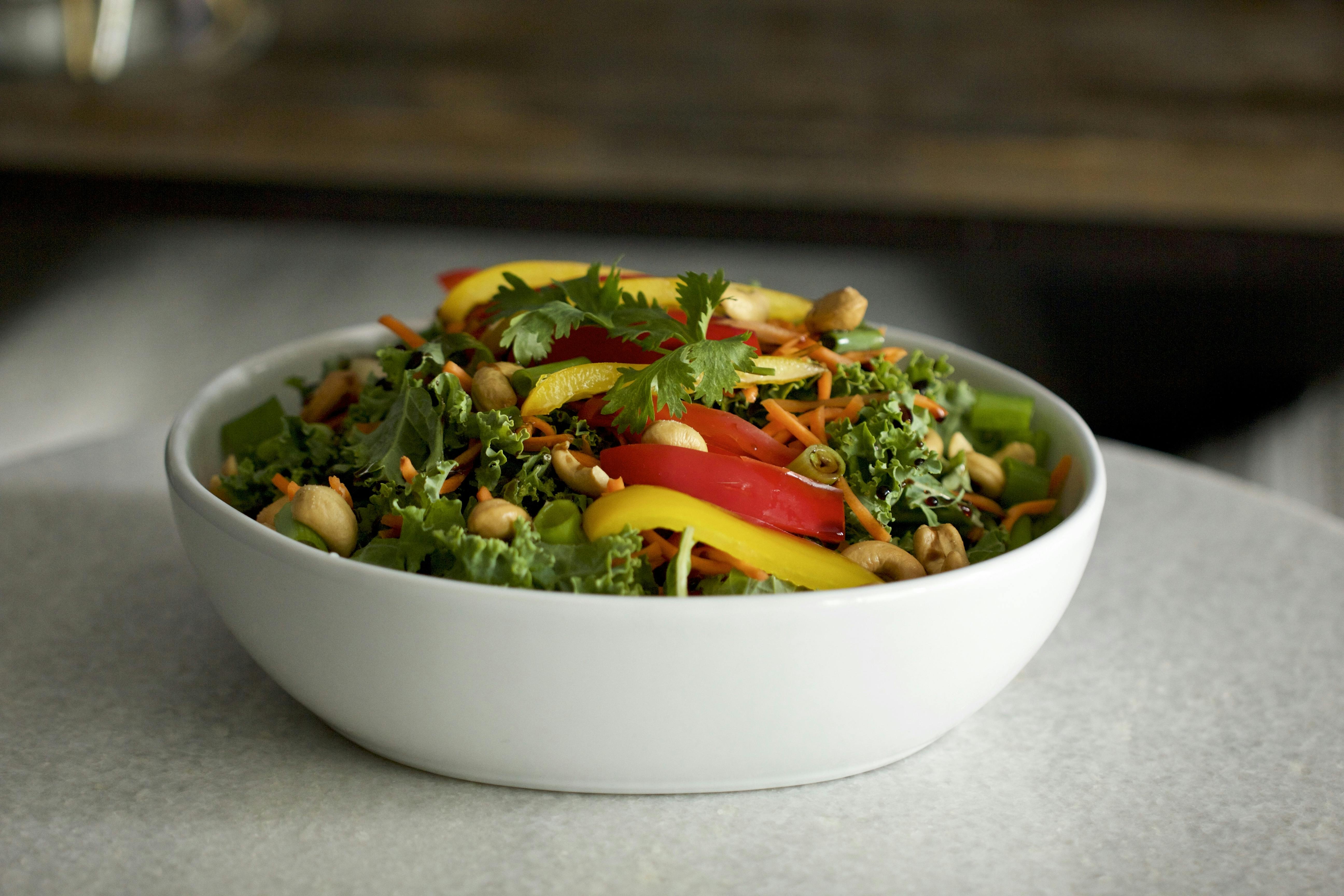 This summer salad is rich in antioxidants like beta carotene; vitamins A, K, and C; and minerals including potassium—all thanks to the addition of carrots and kale. Beta carotene is responsible for the orange, yellow, and red pigment in fruits and vegetables and can help support eye health, as well as slow cognitive decline. Vitamin A, in particular, may help those who suffer from acne to maintain clear skin, and is also essential for vision and eye health.     
Ingredients:
½ cup of roasted carrots
⅓ cup of water
3 tablespoons of extra virgin olive oil
1.5 teaspoons of rice vinegar
1.5 teaspoons of ginger, minced
1 clove of garlic
Salt and pepper to taste
Salad
1 tablespoon of olive oil
½ cup of chickpeas drained and rinsed
1 bunch of curly or dinosaur kale, stems removed, roughly chopped
1 avocado, sliced
¼ cup of pumpkin seeds, roasted
Salt and pepper to taste
Directions:
Preheat the oven to 400 degrees Fahrenheit and line a baking sheet with parchment paper. Drizzle a tablespoon of olive oil and season with salt and pepper. Leave some room on the tray to roast the carrots as well. Cook for about 25 minutes. Set chickpeas aside. In a high-speed blender, add the roasted carrots, water, oil, vinegar, ginger, garlic, and salt and pepper. Blend until smooth. Add a little more water if you'd like the dressing to be thinner. Set aside. Place the kale in a bowl and add the carrot ginger dressing, massaging the leaves until tender. In a small pan, toast the pumpkin seeds over medium heat for a couple of minutes. Keep an eye on them as they can quickly burn! Add the avocado, pumpkin seeds, and chickpeas to the kale. Toss and serve.
Dinner
Vegetarian Stuffed Peppers
Serves: 4
Vegetarian, Gluten-Free
Yellow-Green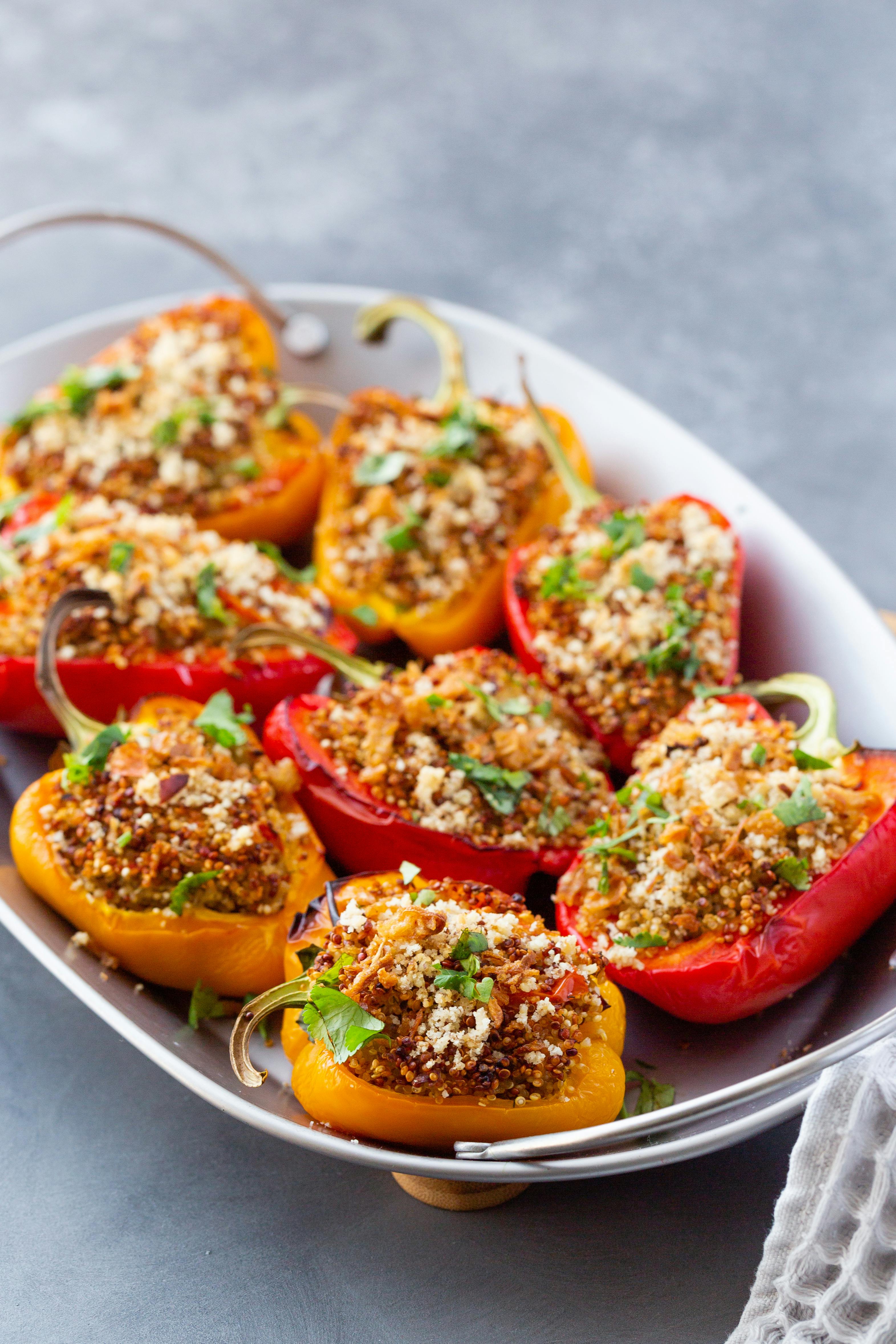 Stuffed bell peppers are a great seasonal summer recipe when you want to take advantage of cooking lighter fare. Bell peppers are especially high in fiber, vitamin C and vitamin K1, which are important in proper blood clotting and bone health. Bell peppers also contain a significant amount of vitamin E, and (in conjunction with vitamin C) they provide a great level of antioxidant and anti-inflammatory protection for the body.
Ingredients: 
4 red or yellow bell peppers
1 15 oz bag of cauliflower rice, cooked
1 ½ cups of black beans, drained and rinsed
1 tablespoon of olive oil
2 garlic cloves, minced
1 jalapeno, minced
2 scallions, diced
1 teaspoon of cumin
1 teaspoon of ground coriander
½ teaspoon of cayenne pepper
¼ cup of cilantro to taste
Salt and pepper to taste
¼ cup of grated cheddar cheese *optional
Directions: 
Preheat the oven to 450 degrees Fahrenheit and line a baking tray with parchment paper. Slice the peppers in half lengthwise, removing the seeds. Place on the tray, cut side up. Bake for 10-15 minutes until softened. While the peppers bake, cook the cauliflower rice in a nonstick pan over medium heat. The goal is to just cook the rice through so it can easily be incorporated into the filling. Cook for approximately 8 minutes. Once the rice is done, add it to a large bowl along with the beans, oil, garlic, jalapeno, scallions, pieces, cilantro, salt, and pepper. Mix everything together. Turn on the oven broiler. Spoon the mixture inside the roasted peppers and top with cheese. Cook for 2-4 minutes. Transfer to a platter and serve.
*For Calibrate program members

Follow Calibrate on Facebook and Instagram to get upcoming recipes!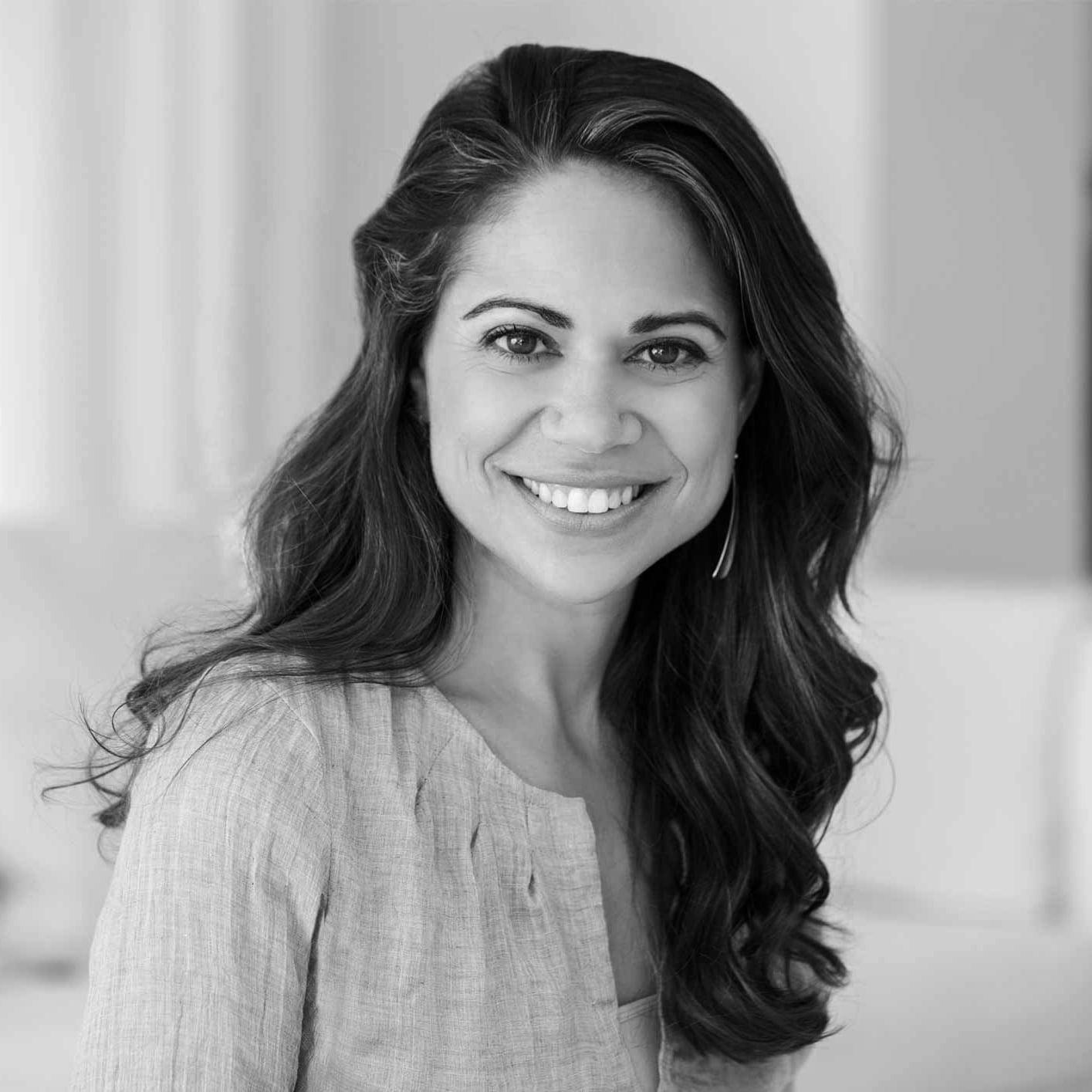 Stephanie Middleberg, RD
Calibrate Food Expert
Stephanie earned her Master's in Clinical Science and RD at New York University. She is the founder of Middleberg Nutrition, a health and wellness practice in New York City, and is the best-selling author of 'The Big Book of Organic Baby Food'.