Recipes for a Reset: May 2021
With summer quickly approaching, we asked Calibrate Food Expert, Stephanie Middleberg, MS, RD, CDN, to put together three recipes for breakfast, lunch, and dinner that are perfect for any summer celebration.
BREAKFAST
Zucchini Crust Breakfast Pizza
Serves 2-4
Gluten-Free, Vegetarian
Yellow-Green*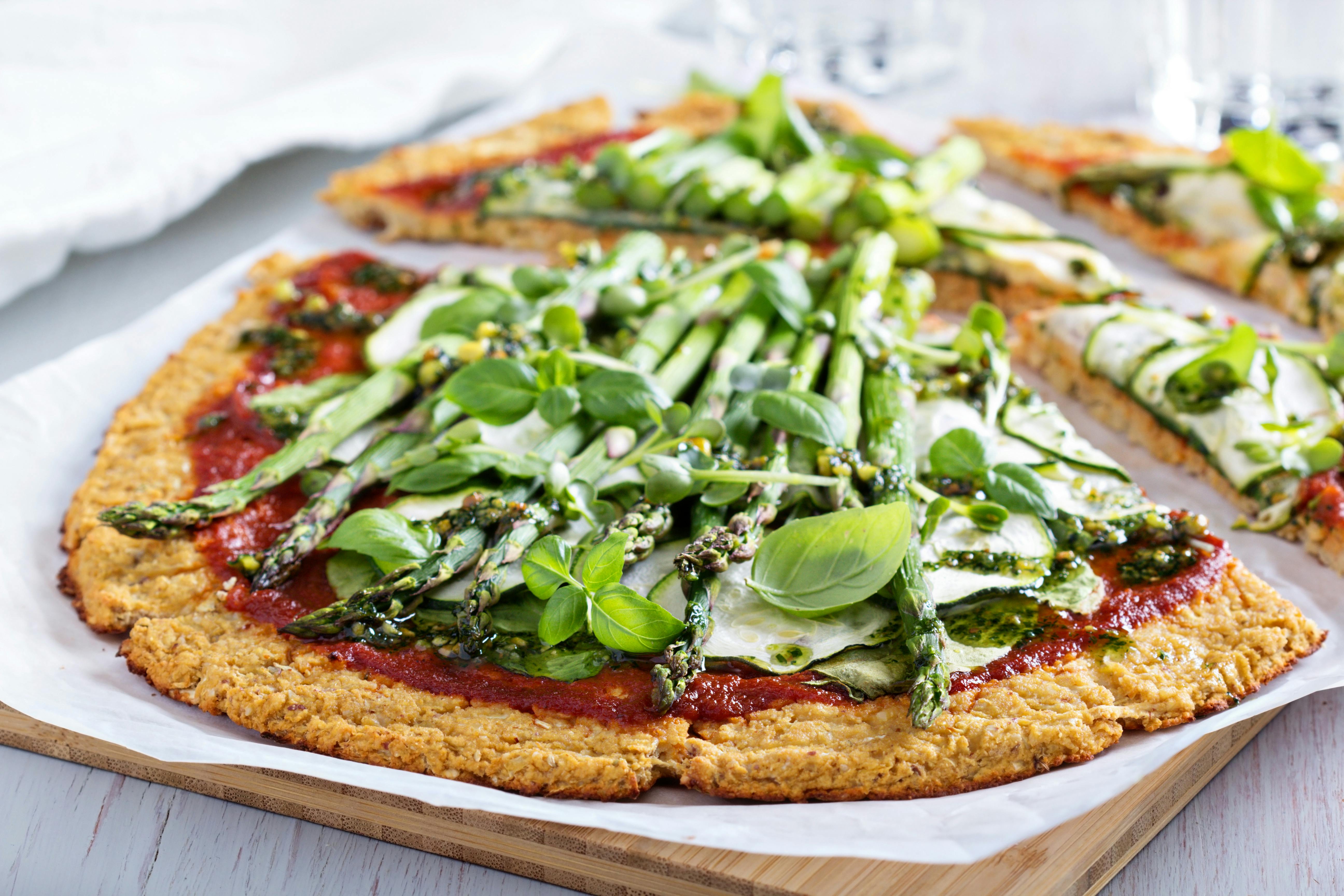 This savory and satisfying breakfast pizza uses nutritious zucchini and almond flour in its crust instead of refined white flour. Zucchinis are rich in vitamins A and C, which can help protect skin, repair cells and boost immunity. Almond flour is high in vitamin E, an antioxidant that helps protect cells from oxidative damage that may accelerate aging. This pizza also contains satiating protein, anti-inflammatory omega-3 fats, and brain-boosting choline from eggs.
Ingredients:
4 cups shredded zucchini (about 2 large zucchini)
1/2 cup shredded mozzarella cheese or grated parmesan cheese
1/3 cup almond flour
1 garlic clove, minced
1 egg, beaten
1 teaspoon of salt
1/2 teaspoon pepper
2 tablespoon marinara sauce (store-bought like Rao's is great)**
1 tablespoon extra virgin olive oil
2 eggs
1 tablespoon basil, julienned
Directions: 
Preheat the oven to 550 degrees Fahrenheit or put on broil. Place a baking sheet tray inside to warm it up. Add the shredded zucchini to a kitchen towel and squeeze the excess moisture out. Transfer the zucchini to a large bowl and add the cheese, flour, garlic, egg, salt and pepper. Mix everything together until well incorporated. Place the mixture on top of a piece of parchment paper. Spread out the mixture to form a circle, and once the crust has been formed, transfer it on top of the parchment paper onto the hot baking tray. Bake the crust for 8-10 minutes, until it begins to brown. Remove it from the oven. Spread the marinara sauce over the crust. Crack eggs and drizzle with olive oil. Lower the oven temperature to 400 degrees Fahrenheit and add the pizza back to the oven for another 3-4 minutes, until the eggs are cooked. Remove the pizza from the oven and sprinkle with basil and parmesan cheese (optional).
LUNCH
Spring Vegetable Cauliflower Fried Rice
Serves 2-4
Gluten-Free, Vegetarian, Dairy-Free
Yellow-Green*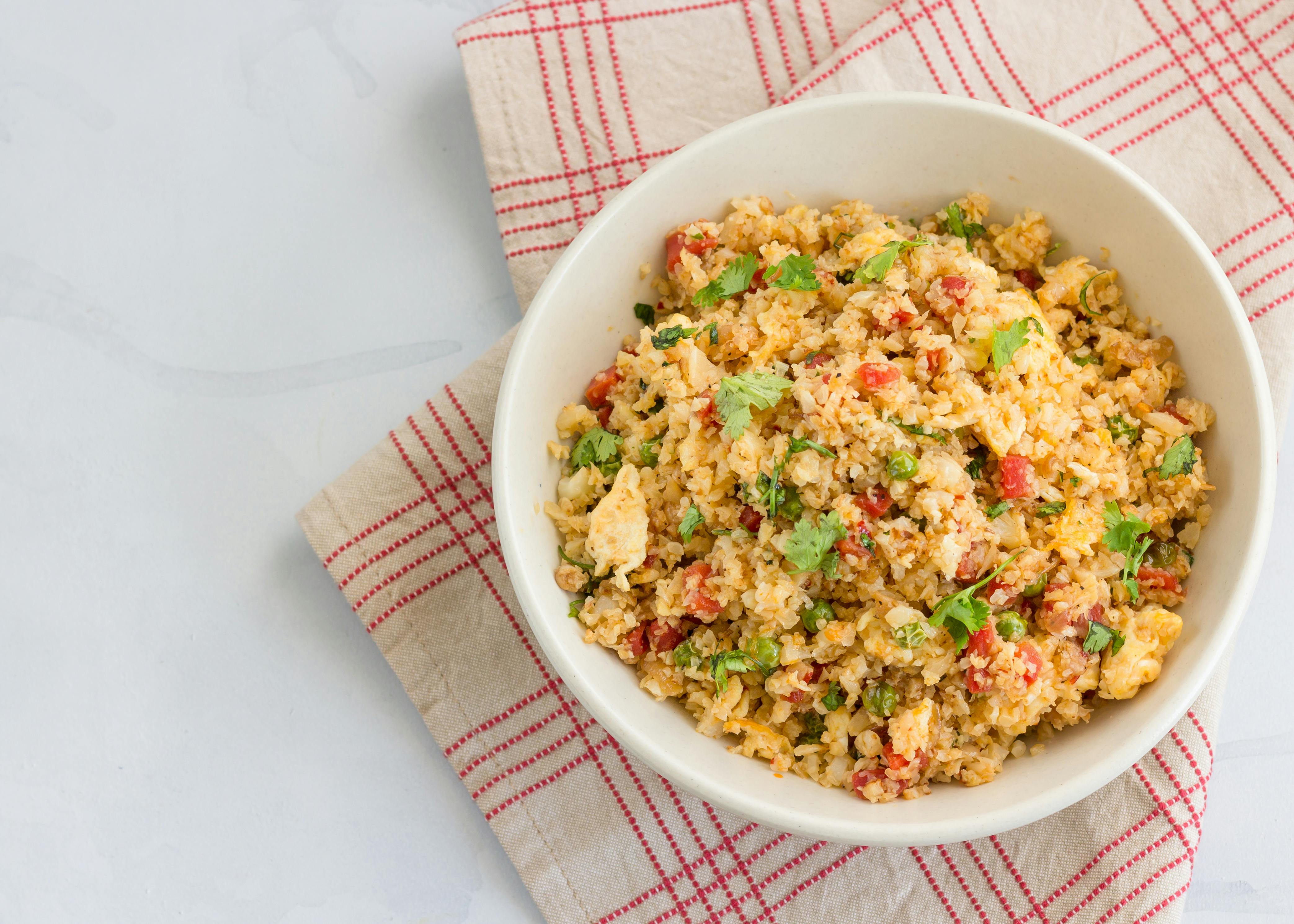 Utilizing cauliflower in place of traditional white rice greatly increases the fiber, as well as the vitamin and mineral content in this dish. Cauliflower is a type of cruciferous vegetable, which contains sulfur compounds called glucosinolates that possess cancer-fighting properties. 
Ingredients:
1 medium cauliflower (or 16 oz. frozen cauliflower rice)
2 tablespoon olive oil
1 garlic cloves, minced
2 scallions, diced
1 carrot, diced
1 cup asparagus, woody ends removed and chopped into thirds
3/4 cup fresh or frozen peas
3 eggs, beaten
1 1/2 tablespoon coconut aminos or tamari
1/4 teaspoon fish sauce
Salt and pepper to taste
Directions:
Chop the cauliflower into florets (removing the large green stem) and pulse it in a food processor with the blade attachment until it looks like rice. Heat a large skillet over medium heat. Add olive oil, garlic, and scallions. Cook for about a minute and add the cauliflower. Cook for another 5 minutes. Add the carrot, asparagus, and peas, cooking for another 8-10 minutes, or until soft. While the cauliflower is cooking, heat a nonstick pan over medium heat and add the beaten eggs, slowly scrambling them with a spatula until just barely cooked (you don't want them to overcook when added back to the cauliflower rice!). Add the scrambled eggs back to the rice while the heat is still on, and add the coconut aminos and fish sauce, mixing all ingredients together. Turn off the heat. Season with salt and pepper and serve.
Dinner
Grilled Chicken with Citrus Salsa Verde 
Serves 4
Gluten-Free
Green*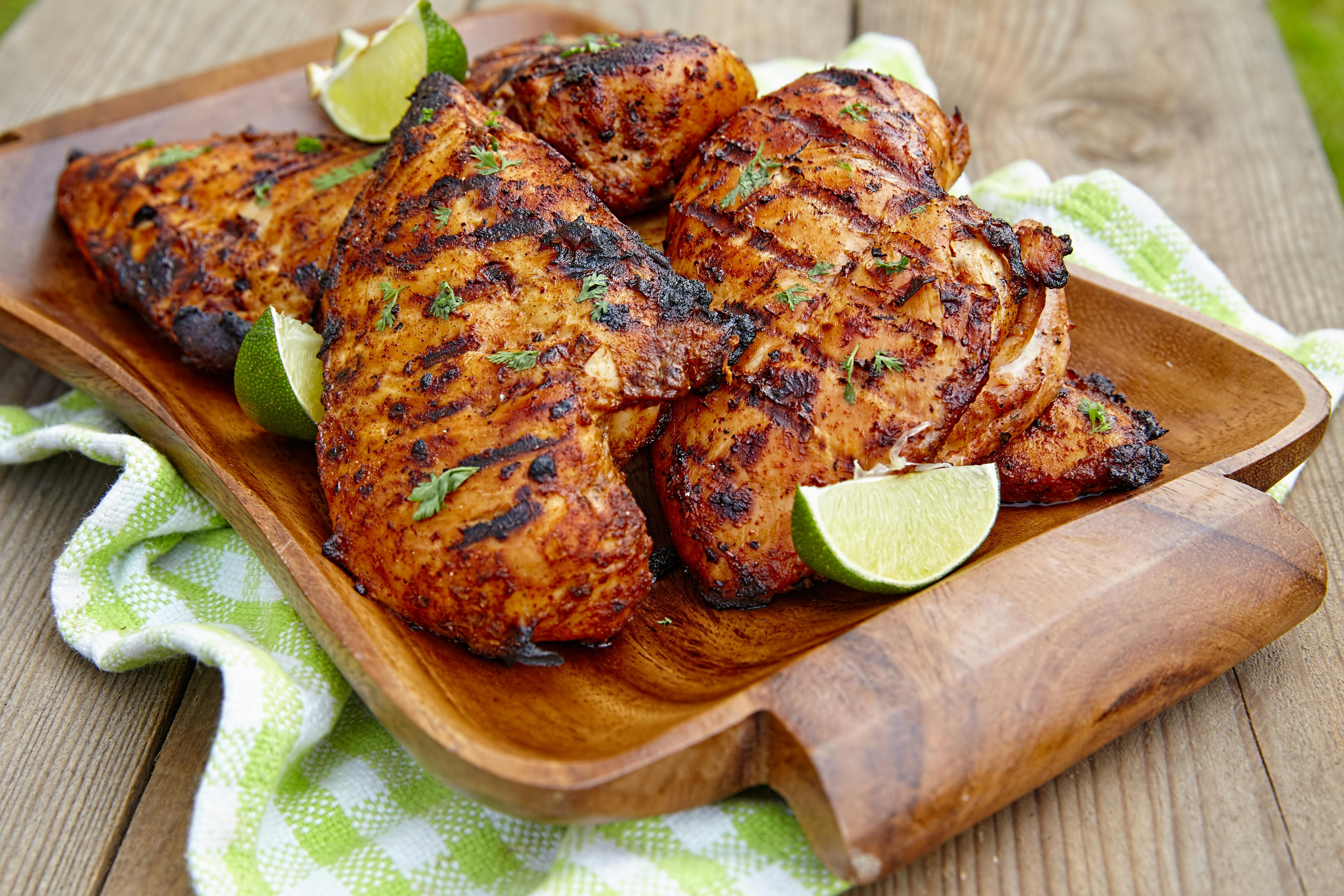 This bright and zingy recipe is the perfect dish to welcome in summer, and we promise you won't miss the sugar-laden barbeque sauce that normally accompanies protein at barbeques! Instead, this salsa verde is full of fresh herbs like parsley and cilantro that contain powerful and protective plant compounds called phytochemicals—these herbs are also antibacterial and detoxifying for the body.
Ingredients: 
Chicken:
2 tbsp olive oil
4 skin-on, bone-in chicken breasts (about 3 lb)
Salt and pepper to taste
Citrus Salsa Verde:
Zest and juice of 1/2 lemon
1 small shallot, minced
1 garlic clove, minced
Salt and pepper to taste
1/2 cup extra virgin olive oil
1/2 cup parsley, finely chopped
1/2 cup cilantro, finely chopped
3 tablespoon scallions, finely chopped
Directions: 
Place chicken on a baking tray and pat dry with a kitchen or power towel. Season with salt and pepper and let the chicken sit at room temperature for at least half an hour and up to an hour. Prepare a grill over medium-high heat. Pat the chicken dry again as the salt will draw out moisture. Rub the breasts with oil and place on the grill, skin side down, cooking for 15-20 minutes, until the skin is browned. Turn the chicken on the other side and cook for another 8-10 minutes. Transfer the chicken to a clean tray or cutting board and let it rest for 10-15 minutes. While the chicken is resting, make the salsa verde. In a medium bowl, add the lemon zest and juice, shallot, and garlic. Season with salt and pepper and let the mixture sit for 5 minutes. Whisk in the oil, parsley, cilantro, and scallions. Season again with more salt and pepper. If you prefer more lemon, add more lemon juice. Once the chicken has finished resting, remove the meat from the bones and slice 1/2" thick pieces. Place the meat on a platter and generously spoon the salsa verde over it.
*For Calibrate program members
**Rao's marinara sauce or any marinara under 5g of sugar per serving
Follow Calibrate on Facebook and Instagram to get upcoming recipes!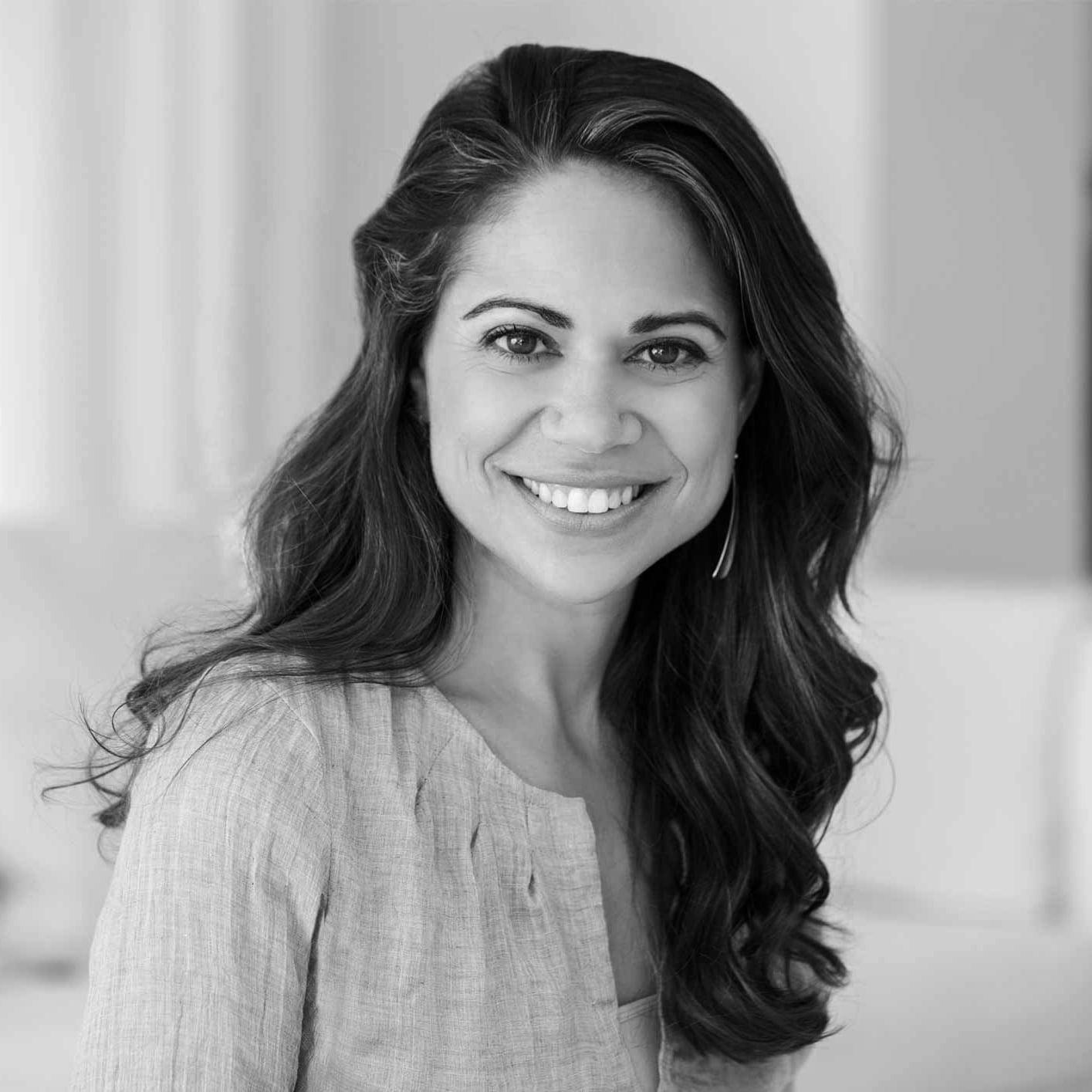 Stephanie Middleberg, RD
Calibrate Food Expert
Stephanie earned her Master's in Clinical Science and RD at New York University. She is the founder of Middleberg Nutrition, a health and wellness practice in New York City, and is the best-selling author of 'The Big Book of Organic Baby Food'.