The hemoglobin A1C test (also called the glycated hemoglobin A1C or the HbA1c test) is the most commonly used blood test to diagnose type 2 diabetes and identify prediabetes. It's an important health marker that your healthcare provider will likely recommend as a part of your routine blood work if you are over age 45—or if you are under age 45 but have one or more risk factors for diabetes, including overweight or obesity.
Prediabetes and diabetes are diagnosed if your A1C is above certain thresholds. High A1C also increases your risk for other potentially serious health problems, such as kidney disease, neuropathy or nerve damage, stroke, and cardiovascular disease.
If you've recently learned that your A1C levels are above the normal range, it's normal to feel a little overwhelmed. Perhaps your doctor suggested weight loss, or that you make significant dietary or lifestyle changes to lower blood sugar. Where do you begin? First, know that you're not alone—and with the right approach, lowering your A1C is entirely possible.
Read on to learn how to lower A1C naturally and improve your metabolic health.
What is A1C?
Let's pause for a moment and revisit A1C: What is it, and how does it provide insight into diabetes risk?
A1C is a form of hemoglobin, a protein that carries oxygen in the blood. A1C is also called glycated hemoglobin because glucose attaches to this protein when you consume sugar. All people have a certain amount of sugar attached to the hemoglobin in their red blood cells, but individuals with chronically high blood sugar have a greater concentration of glucose-attached hemoglobin.
Per the CDC, "The A1C test measures the percentage of your red blood cells that have sugar-coated hemoglobin."
What is a normal A1C level?
A1C is used to track blood glucose (blood sugar) levels over a three-month period. The higher the number, the greater one's risk of developing diabetes complications.
The optimal range for A1C is between 4.5 and 5.7 percent. Here's the breakdown of A1C ranges, according to the CDC:
Normal: Below 5.7%
Prediabetes: 5.7% to 6.4%
Diabetes: 6.5% or above
If your blood sugar levels are reported in estimated average glucose (eAG), rather than a percentage, use the following formula to convert your results into a percentage:
A1C percentage = (eAG + 46.7) / 28.7
Here's a quick reference chart: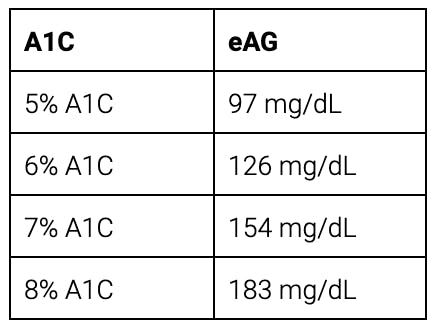 Your doctor will help you set an A1C goal if your levels are out of normal range. If you have diabetes, you'll likely retest your A1C at least twice per year, but your doctor may recommend testing more frequently depending on various individual factors.
How to lower A1C naturally & improve metabolic health
Despite what you may have read on the Internet or social media, there's no quick fix for A1C. In order to lower your A1C levels naturally, you'll need to dedicate some time and effort towards lifestyle changes. The good news is, these changes won't just improve your A1C markers—they'll improve other areas of your life, as well.
Calibrate's One-Year Metabolic Reset is designed to help those struggling with overweight or obesity improve their metabolic health, including A1C. The program was developed by our Expert Council and Clinical Advisory Board, integrating the science, medication, and strategies that lead to sustainable results.
When you join Calibrate, you will be paired with a licensed physician (your Calibrate doctor) who will order some initial labs—including an HbA1c test, a kidney function test (Cr/GFR), and a thyroid-stimulating hormone (TSH) test.
You'll review the results of these blood tests with your Calibrate doctor during your initial 30-minute virtual appointment; your doctor will also go over your health history and discuss the best GLP-1 medication for your needs. Then, you'll be paired with an accountability coach and have your first 1:1 coaching session. This session officially kicks off your Calibrate year.
Through a combination of biweekly coaching sessions, GLP-1 medication, doctor check-ins, and an immersive digital curriculum focused on making gradual improvements to food, sleep, exercise, and emotional health, Calibrate members are guaranteed to lose a minimum 10 percent of body weight after the completion of their One-Year Metabolic Reset. 
Along with this reduction in body weight, members are also likely to see improvement in their A1C levels: One 2012 study concluded that "Intentional weight loss of 10% can potentially decrease A1C% by 0.81."  
The following are Calibrate's Four Pillars of Metabolic Health—the four key areas that Calibrate members will focus on through the curriculum in order to lose weight and lower A1C naturally:
1. Food & A1C
The food you eat plays a significant role in your A1C levels—after all, A1C is directly influenced by the amount of glucose (sugar) in your bloodstream. When you eat sugary foods or fast-digesting carbohydrates, your blood sugar levels spike. If you eat lots of fast-digesting carbohydrates on a regular basis, your blood glucose is more likely to remain chronically elevated.
Dietary changes to improve A1C don't need to be restrictive: When you join Calibrate, you'll work to establish a sustainable and flexible approach to nutrition that focuses on minimizing fast-digesting carbs and making healthier choices that include protein, fiber, and healthy fats—without restricting or counting calories.
Here are some simple, healthier swaps for foods that are high in fast-digesting carbohydrates to those that have a lower glycemic index:
Swap out soda and fruit juices for sparkling water, plain green tea, or homemade fruit-infused water (try adding cucumber and lemon slices to a pitcher of ice water and leaving in the refrigerator to infuse for a few hours)
Swap out white bread for sprouted grain, whole seed breads (find these in the frozen section of your local supermarket) or substitute lettuce wraps for burgers and sandwiches
Swap out white rice for riced cauliflower or quinoa
Swap out french fries for baked jicama "fries"
Swap out pasta for zucchini noodles
Swap out candy for 1-2 squares of dark (70% or more) chocolate
Swap out ice cream for homemade chia pudding (lightly sweetened with maple syrup)
Try to reduce your alcohol consumption, as well. Alcohol is digested very quickly, causing a rapid increase in blood sugar levels shortly after drinking.
2. Exercise & A1C
With our busy lives and hectic schedules, it's not always easy to find time to exercise—but it's critical for your health, whether or not you're trying to lose weight or lower your A1C naturally. Learning to prioritize exercise starts with reframing how you think about it. If you're inclined to see exercise as a chore, you're less likely to make time for it.
With Calibrate, your accountability coach will help you shift your mindset so that you start to see exercise as a positive and enjoyable part of the day. Your exercise goals will include getting 150 minutes of movement and incorporating two or more resistance training sessions each week.
Exercise is one of the most effective natural ways to lower A1C, partly because it helps your body use insulin more efficiently. Some other benefits of regular exercise include:
It reduces inflammation
It improves blood circulation
It increases levels of HDL cholesterol (good cholesterol)
You'll be able to track your workouts in the Calibrate app, helping you monitor your progress over time and making it easier to identify the types of exercise that are most impactful for you as an individual. Whether it's swimming, cycling, yoga, or pilates, there's a form of exercise out there for you—all you need to do is keep an open mind.
3. Sleep & A1C
Sleep is when our bodies have the opportunity to restore and repair themselves—all the way from our immune system fighting off pathogens to our lymphatic system clearing the brain of metabolic waste. Sleep impacts our immune health, mental health, metabolic health, cognition and mood, and even our long-term brain health.
On a day-to-day basis, sleep influences our appetite, cravings, and our cortisol or stress hormone levels. When sleep deprived, your cortisol levels increase, which in turn reduces insulin sensitivity. This is just one of many mechanisms by which sleep influences blood sugar control.
Knowing this, it makes sense that sleep also plays a key role in weight loss. When you join Calibrate, you'll work to develop a schedule that improves sleep quality and minimizes cardio-metabolic health factors with 7-9 nightly hours of restful sleep. To keep your coach updated on your progress, you can track your energy levels and sleep on a daily basis through the Calibrate app. 
4. Emotional health & A1C
Blood sugar is known to impact mood and mental health—when you eat a huge bowl of ice cream, you might feel a temporary "sugar high" followed by a depressive crash. But the opposite is also true: Mental and emotional health can impact blood sugar.
As mentioned in the previous section on sleep, a spike in cortisol will reduce your body's insulin sensitivity and impact blood glucose levels. Cortisol is the "stress hormone;" people who are chronically stressed out or anxious tend to produce more of it. That means that chronic stress and other emotional health challenges are capable of affecting A1C.
Long story short? The connection between emotional health and blood sugar (or A1C) goes both ways. That's why it's important to not only improve your eating habits and other aspects of physical health, but to simultaneously work on managing stress and improving emotional health. Doing so will establish a virtuous (rather than vicious) cycle:
Eating fewer fast-digesting carbohydrates and exercising more frequently will help you manage day-to-day stress, boost your mood, and may even improve depression and anxiety
Reducing stress will decrease cortisol production, which improves blood sugar control
Improved blood sugar control will help reduce cravings for sugary foods while increasing sustained energy levels
With Calibrate, you'll improve emotional health by adopting a daily mindfulness practice while also applying science-backed methods to reduce stress and recognize emotional triggers that influence metabolic health. Your accountability coach will help you tackle behaviors like becoming more aware of triggers and emotional eating— which are often directly linked to stress and anxiety—and work with you to replace those negative habits with positive ones.
Key takeaways
Hemoglobin A1C is the most common blood test used to evaluate risk of diabetes and prediabetes
If you have type 2 diabetes, routinely measuring hemoglobin A1C is an important part of your diabetes management plan—but it is also used to monitor individuals who have prediabetes or two or more diabetes risk factors
According to the American Diabetes Association, the higher your A1C levels, the greater your risk of developing diabetes complications such as heart disease or kidney disease
To lower A1C levels, work with your doctor to put together a weight loss plan that incorporates lifestyle changes (such as the food you eat, sleep you're getting, and exercise) alongside supportive medication (such as GLP-1 medication)
Calibrate's One-Year Metabolic Reset provides a framework for sustainable weight loss that tackles all of the factors influencing metabolic health, including food, sleep, exercise, and emotional health
Ready to get started? Find out if you're eligible today.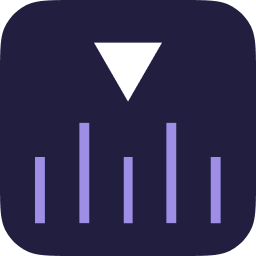 Calibrate
We're a modern, medical approach that combines doctor-prescribed medication with 1:1 accountability coaching—all personalized to your biology, your goals, and your life for a metabolic reset that lasts and 10% Weight Loss Guaranteed (see terms).