Medication in the Calibrate Program: Introducing Wegovy® (Semaglutide 2.4)
Calibrate is excited to offer Wegovy® as the newest GLP-1 medication in our program. As Wegovy® rolls out to pharmacies nationwide, we anticipate some supply chain disruptions as the drug's manufacturer adjusts to demand. As always, the Calibrate Medical and Support teams will work with you to prescribe the best GLP-1 medication for you that is available and covered by your insurance with a copay of $25/month or less. Thank you for your patience; please review our FAQs or reach out to hello@joincalibrate.com with questions.
By Isabelle Kenyon, Founder & CEO, and Kim Boyd, MD, Chief Medical Officer
At Calibrate, we know that weight loss is not about willpower, but rather our biology. Because of this, our goal is to bring you a science-based program to improve your metabolic health and unlock long-term, sustainable weight loss. One cornerstone of this is FDA-approved prescription medication that works with your biology. 
Calibrate doctors prescribe a class of metabolic medications that mimic the effect of glucagon-like peptides-1s. GLP-1s are powerful hormones made by your gut that send signals to your brain to regulate your metabolic function, help you feel full, and decrease your appetite. Research suggests that people who hold onto more weight experience reductions in GLP-1 signaling. 
Different doses of semaglutide have been FDA-approved since 2017 (Ozempic®) and 2019 (Rybelsus®). Now, following its recent Food and Drug Administration's (FDA) approval, we're excited to announce that we're adding a new higher dose of semaglutide to our program—called Wegovy®.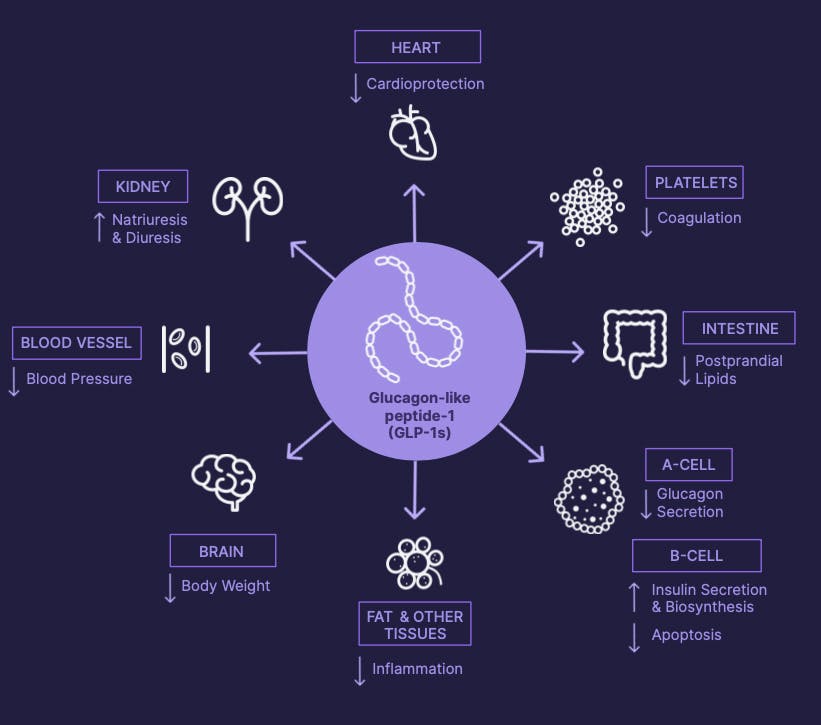 Effects of GLP-1s in the body.
THE SCIENCE BEHIND WEGOVY®
Semaglutide has been researched for more than a decade and is known to be both effective and safe. But the Wegovy® dosing demonstrates even more metabolic health benefits and weight loss than previous doses. 
As part of its final FDA approval, Novo Nordisk, the pharmaceutical company that developed semaglutide, has released a multi-year, four-part trial on Wegovy®, called the STEP (Semaglutide Treatment Effect in People with obesity) trials. Approximately 4,500 adults with obesity or who were overweight participated. 
Each of the four studies focused on weight as the primary endpoint and demonstrated weight loss from 15-20% over the course of a year, with a particular focus on the sustainability of that weight loss over the longer-term. 
All of the trials were published individually, and you can review them here or discuss them with your Calibrate medical team: STEP 1 in New England Journal of Medicine, STEP 2 in The Lancet, STEP 3 in The Journal of the American Medical Association, STEP 4 in The Journal of the American Medical Association.
IS WEGOVY® RIGHT FOR YOU?
All Calibrate members will be considered, as clinically appropriate, for Wegovy®. Calibrate doctors always review your medical history and metabolic markers to make sure GLP-1 treatment is right for you and to ensure you're receiving the best and most effective GLP-1 for you. Our team also works closely with your commercial insurance so you can receive your GLP-1 medication for a copay of $25/month or less.  
It's also worth noting that Calibrate members have averaged better metabolic health improvement and more weight loss than the participants of the clinical trials of the GLP-1s we use, and that research has shown that habit change is critical to sustaining weight loss over time. In other words, while GLP-1s are powerful, our program and your weight loss are about much more than the medication alone.
Regardless of which GLP-1 you are prescribed, our goal is that all Calibrate members will sustainably improve metabolic markers and lose 10% or more of their body weight when every part of our program is integrated into their lives.
OUR COMMITMENT TO YOU
We are committed to bringing the latest research-based, FDA-approved metabolic science to our members and believe that the future is bright. Beyond Wegovy®, there are several other new, highly effective GLP-1s and GLP-1 combination medications approaching FDA approval. 
In partnership with our Clinical Advisory Board, we are closely following the progress of these medications, as well as emerging research on other molecules that impact the gut brain axis and play a role in regulating our metabolic health. 
With each new scientific breakthrough, we come closer to achieving our mission to change the way the world treats weight by giving every Calibrate member the opportunity to take control of their metabolic health.
If you have more questions about our One-Year Metabolic Reset program, reach out to hello@joincalibrate.com.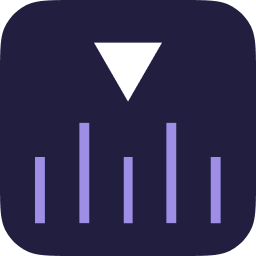 Calibrate
We're a modern, medical approach that combines doctor-prescribed medication with 1:1 accountability coaching—all personalized to your biology, your goals, and your life for a metabolic reset that lasts and 10% Weight Loss Guaranteed (see terms).