With Thanksgiving welcoming the start of the holiday season, Calibrate Food Expert Stephanie Middleberg, MS, RD, CDN, shares three holiday recipes that are both delicious and healthy.

APPETIZER
Pumpkin Soup
Serves 4
Gluten-Free, Dairy-Free (if using coconut milk), Vegan (if using coconut milk), Kosher, Halal
Yellow-Green (if using heavy cream)*
Yellow (if using coconut milk)*

Pumpkin soup is an easy, delicious way to take advantage of this cold-weather vegetable crop. Pumpkin is protective for the eyes, and contains the antioxidants lutein and zeaxanthin, which are associated with a lower risk of macular degeneration and cataracts. These compounds are also a natural defense against the sun's harmful UV rays. The addition of coconut milk adds creaminess, while boosting the soup's nutrition. Coconut milk contains medium-chain triglycerides (MCTs), which can boost fat burning and metabolism. This dairy-free milk also contains many important electrolytes, such as potassium and magnesium, which help muscle contraction and maintain the overall fluid balance within the body.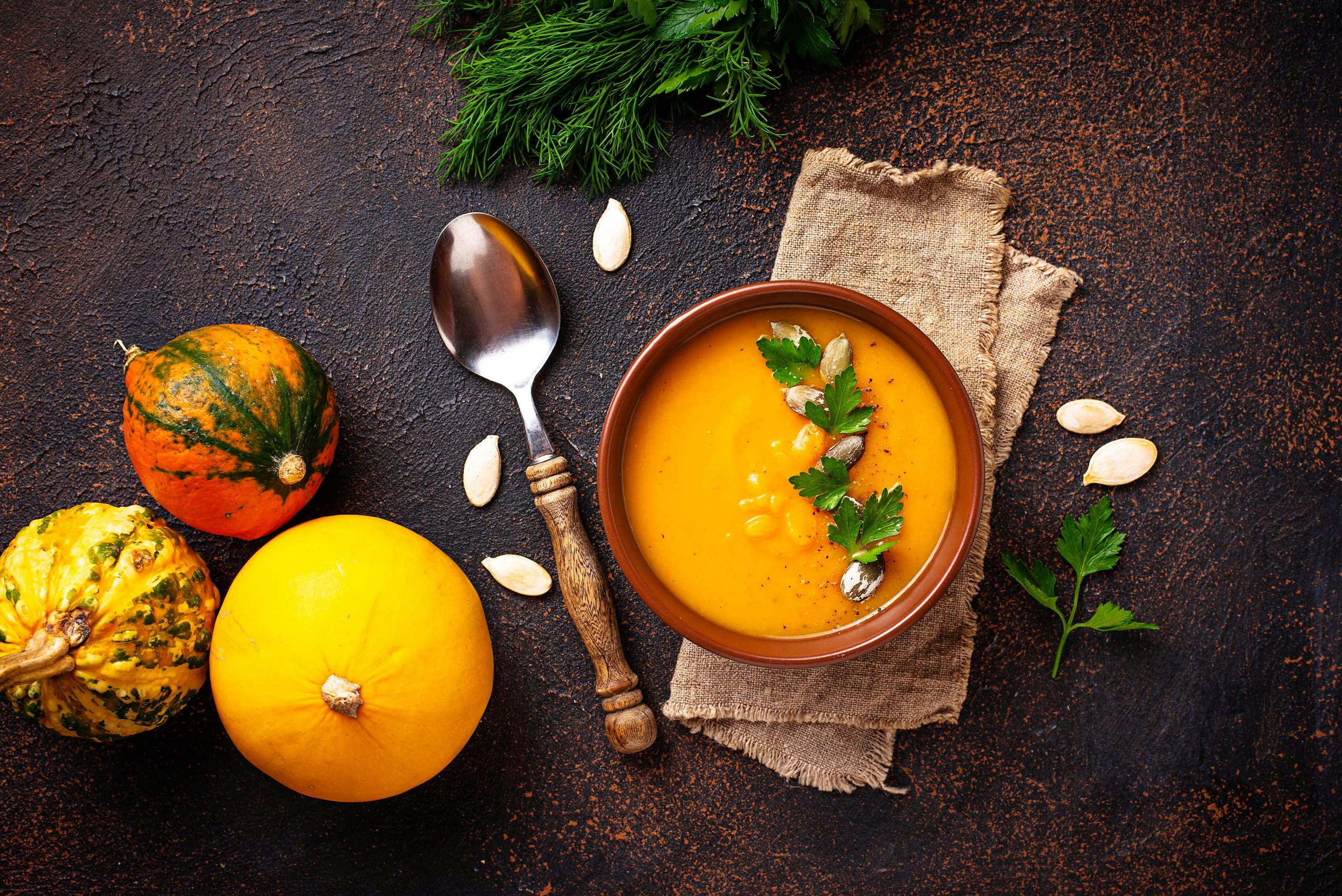 Ingredients:  
4 tablespoons olive oil, divided 
One sugar pie pumpkin, about 4 pounds (or two 15 ounce cans of pumpkin puree) 
1 yellow onion, chopped 
4 garlic cloves, minced 
1 teaspoon fresh ginger, minced 
½ teaspoon cinnamon 
½ teaspoon nutmeg  
4 cups vegetable or chicken broth 
½ cup coconut milk or heavy cream 
Salt and pepper to taste  
Directions:
Preheat an oven to 425℉ and line a baking tray with parchment paper. Halve the pumpkin, scooping out the seeds. Slice each half again to make quarters. Place the pumpkin onto the baking sheet and drizzle one tablespoon of the oil over the flesh side of the pieces. Roast the pumpkin for 35-40 minutes and set it aside. In a medium pot over medium heat, add the 3 tablespoons of oil. Add the onion, garlic and ginger and cook for about 8 to 10 minutes, until the onion is translucent. While the ingredients are cooking, remove the skin from the pumpkin slices and reserve the flesh. Add the pumpkin flesh, cinnamon and nutmeg. Season with salt and pepper. Add in the broth, bringing the mixture to a boil, then reducing the heat. Let the soup simmer for about 20 minutes. Pour in the coconut milk and transfer the soup to a blender, blending until smooth. Alternatively, you can blend the soup with an immersion blender directly into the pot. Ladle the soup into individual bowls and serve.

SIDE DISH
Mashed Garlic Cauliflower
Serves 4
Gluten-Free, Dairy-Free, Kosher, Halal
Green*

Mashed cauliflower is a delicious and satisfying holiday staple. Cauliflower is high in the antioxidant glucosinolate, which is protective against certain types of cancer. It's also a plant-based source of choline, which is vital for maintaining cell membrane integrity and supporting brain development. The addition of fresh herbs like thyme makes this dish anti-inflammatory and antimicrobial as well.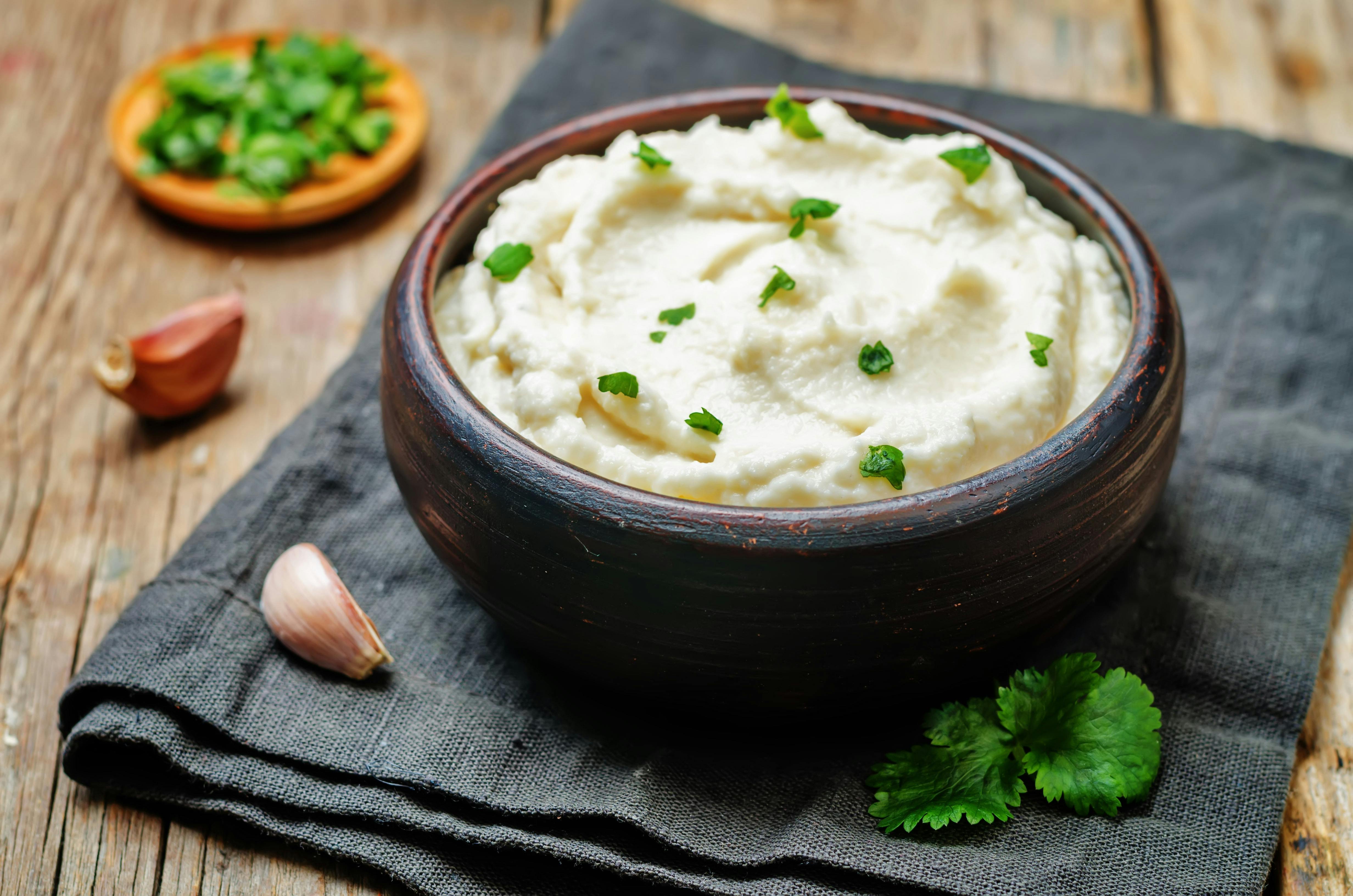 Ingredients: 
1 head of cauliflower 
2 tablespoons olive oil or grass-fed butter 
3 garlic cloves, peeled and whole 
1 teaspoon fresh thyme, finely chopped 
Salt and pepper to taste
Directions:
Preheat an oven to 400℉. Line a baking tray with parchment paper. Remove the outer leaves of the cauliflower and carefully cut off the bottom stem so that the cauliflower is flat. Place the cauliflower and garlic cloves on the baking tray. Pour the olive oil on the cauliflower and garlic, and season with salt and pepper. Roast for 40-45 minutes. Check the garlic halfway through to make sure it isn't burning. If it is, remove the garlic from the oven and set it aside for when the cauliflower is done. To a large bowl, add the roasted cauliflower, garlic, and thyme. With a potato masher or immersion blender, mash the cauliflower to your desired texture. Serve immediately while still warm.
SIDE DISH
Roasted Rainbow Carrots and Parsnips
Serves 6-8
Gluten-Free
Kosher
Halal
Yellow (due to maple syrup / coconut sugar)*

This colorful root vegetable dish is perfectly savory and sweet. Carrots are rich in powerful plant compounds called carotenoids, specifically beta-carotene, which the body converts to vitamin A—helping to support eye health and immune function. Parsnips contain high amounts of vitamin C, which helps stimulate collagen production—keeping the skin elastic and protecting joints.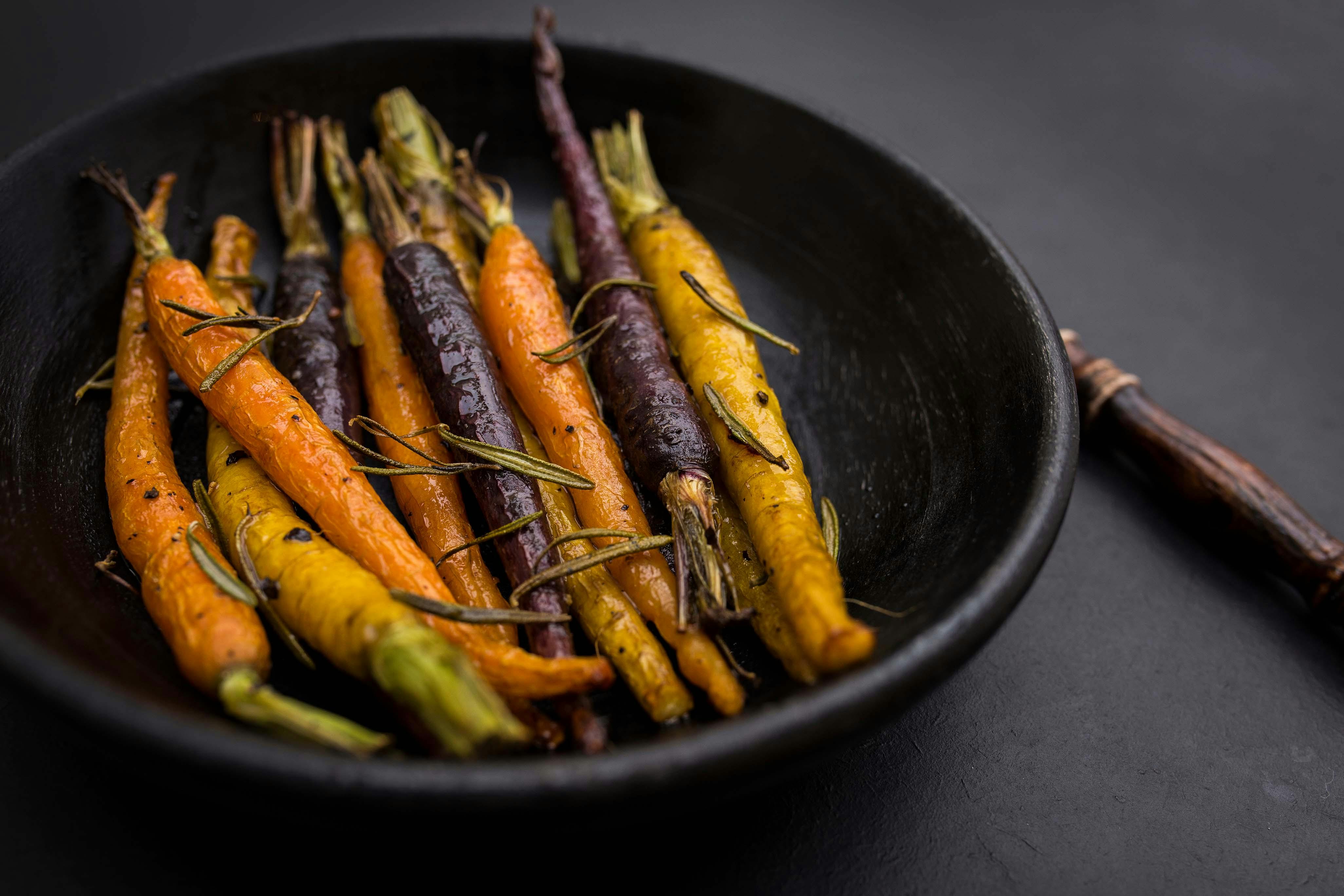 Ingredients:  
3 pounds rainbow carrots and parsnips (*3 pounds total not 3 pounds each), peeled and quartered lengthwise if too large 
2 tablespoons olive oil 
1 tablespoon grass-fed butter 
1 teaspoon maple syrup or coconut sugar 
Salt and pepper to taste 
Directions:
Preheat an oven to 425℉. On a large baking sheet, add the carrots and parsnips. Drizzle them with olive oil, butter, maple syrup, salt and pepper. Spread out the vegetables in an even layer, without overlap so they roast nicely. Roast for about 35 minutes. Season with more salt and pepper, if desired. Transfer to a serving bowl and serve.

*For Calibrate Members
Follow Calibrate on Facebook and Instagram to get upcoming recipes!