As the leaves change colors and the air gets colder, Calibrate Food Expert, Stephanie Middlberg, RD shares three recipes that will warm you up this fall and holiday season.

BREAKFAST
Pumpkin Spice Muffins
Serves 10
Gluten-Free, Dairy-Free
Yellow*

These gluten and dairy-free muffins are filled with warming spices like cinnamon, cloves and nutmeg that are rich in antioxidants that help fight against harmful free radicals in the body. Instead of wheat flour, this recipe uses almond flour, which is full of satiating fiber, as well as Vitamin E. Vitamin E is another beneficial antioxidant that helps support immune function, lower inflammation and promote healthy skin. Additionally, pumpkin gives these muffins a boost of the antioxidant beta-carotene, which the body converts to Vitamin A. Vitamin A is important for eye health and immunity.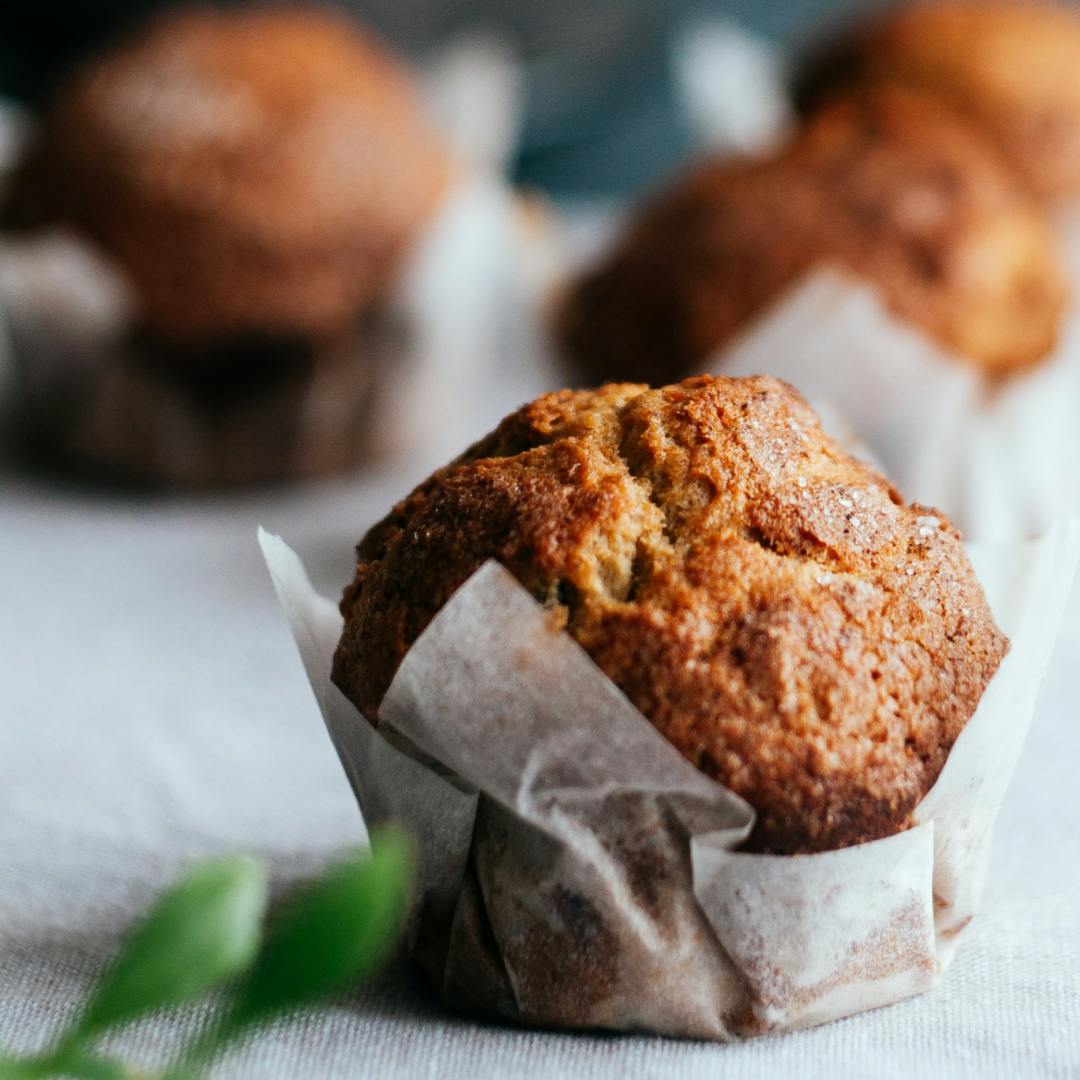 Ingredients:
1 ½ cups of blanched almond flour
½ teaspoon of salt
¾ teaspoon of baking soda
2 ½ teaspoons of pumpkin spice
4 eggs
¾ cup of pumpkin puree
¾ cup of maple syrup, honey, or coconut sugar
1 teaspoon of vanilla extract
Optional mix-ins: add ¼ cup of pumpkin seeds, chopped walnuts, chopped pecans, or ½ cup of chocolate chips
Directions:
Preheat oven to 350 degrees Fahrenheit. Line 10 muffin tins in a muffin pan with paper liners. In a large bowl, mix together the dry ingredients. Add in the almond flour, salt, baking soda, and pumpkin spice. In another bowl, whisk the eggs, pumpkin, maple syrup, and vanilla together. Make a little hole in the middle of the bowl with the dry ingredients. Add in the wet mixture and stir gently until combined. Pour the batter into the muffin tins, filling them almost completely to the top. Bake for 22-24 minutes, let them cool, and enjoy!

LUNCH
Roasted Maple Acorn Squash Arugula Salad
Serves 4
Gluten-Free, Vegetarian
Yellow-Green*

This is the perfect filling salad to welcome in the fall season. Acorn squash is a healthy, whole foods source of carbohydrates, as well as fiber. This makes it excellent for digestion, regulating blood sugar levels, and promoting satiety. Arugula, a cruciferous vegetable touted for its cancer-fighting properties, is rich in folate, a B vitamin that is especially important in pregnancy, helping support DNA production and other genetic material. Arugula also contains important nutrients like calcium for bone health, and Vitamins C, A, and K.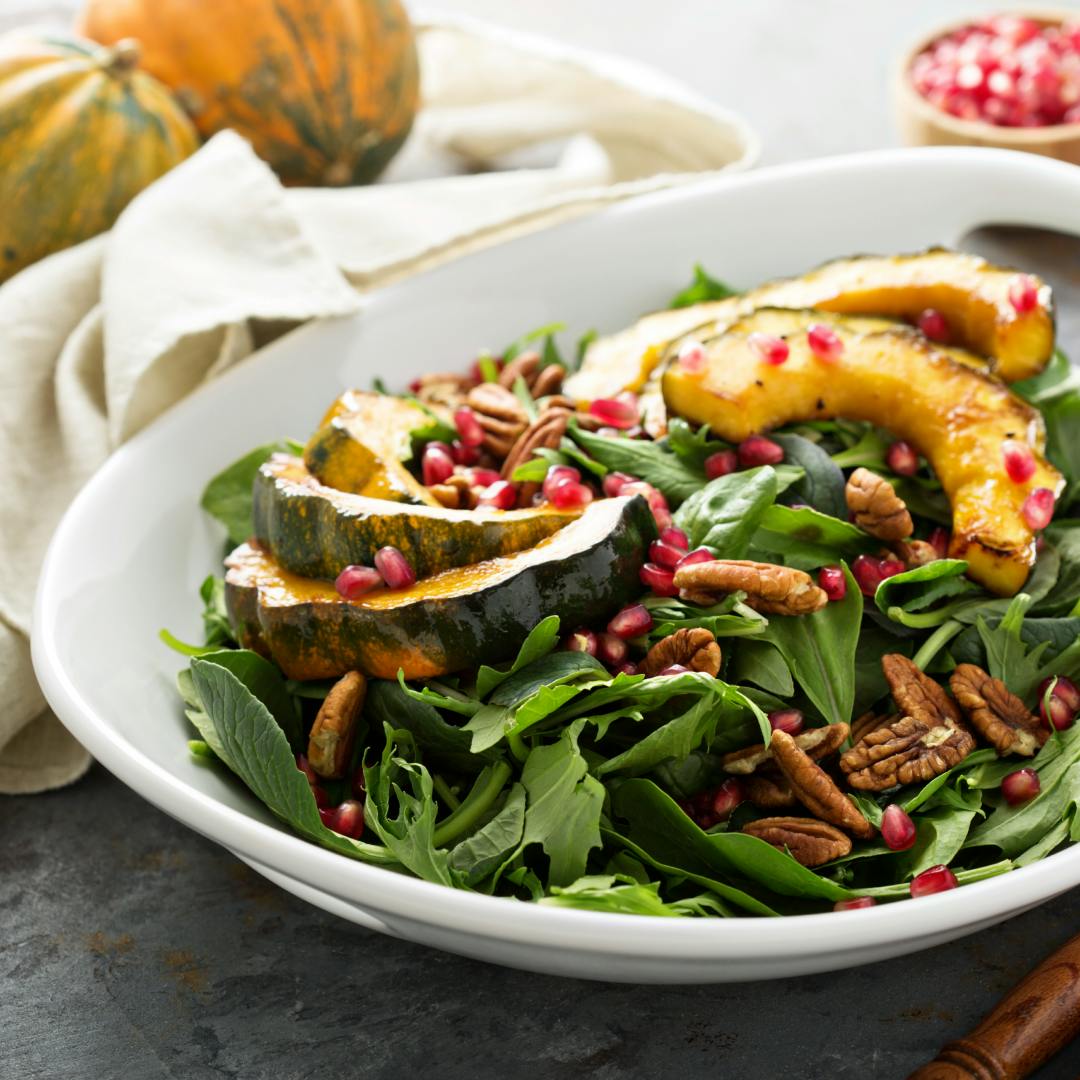 Ingredients:
Salad:
1 small acorn squash, cut lengthwise
2 tablespoons of maple syrup
¼ cup of pomegranate seeds
¼ cup of pumpkin seeds
4 cups of arugula
Optional: 4 oz of goat cheese 
Dressing:
⅓ cup of extra virgin olive oil
3 tablespoons of apple cider vinegar
Salt + pepper to taste
Directions: 
Preheat the oven to 400 degrees Fahrenheit. Slice the acorn squash in half and remove the seeds. Then slice the squash lengthwise into ¾- inch slices. Place on a baking tray. With a brush or spoon, drizzle maple syrup over the squash. Bake for 10-12 minutes on one side, until golden brown. Then flip and bake them on the other side for another 10 minutes. When finished cooking, set the tray aside. To prepare the dressing, whisk oil, vinegar, salt, and pepper together. Set aside. On a serving platter, create a bed of the arugula and then place the squash on top. Sprinkle it with pomegranate and pumpkin seeds, and crumble goat cheese on top. Drizzle the dressing over all the ingredients and serve!

DINNER
Pork Chops with Apples & Onions
Serves 4
Dairy-Free
Orange*

This dish is the perfect balance between sweet and savory, and encompasses the flavors of autumn with warm, seasonal apples and sage. Pork is rich in vitamins like Thiamine, B6 and B12, which help support everything from blood cell formation to brain function. Furthermore, adding apples to this recipe provides flavonoids, powerful plant compounds that act as protective antioxidants, and can even help reduce the risk of heart disease by lowering blood pressure and reducing harmful LDL cholesterol.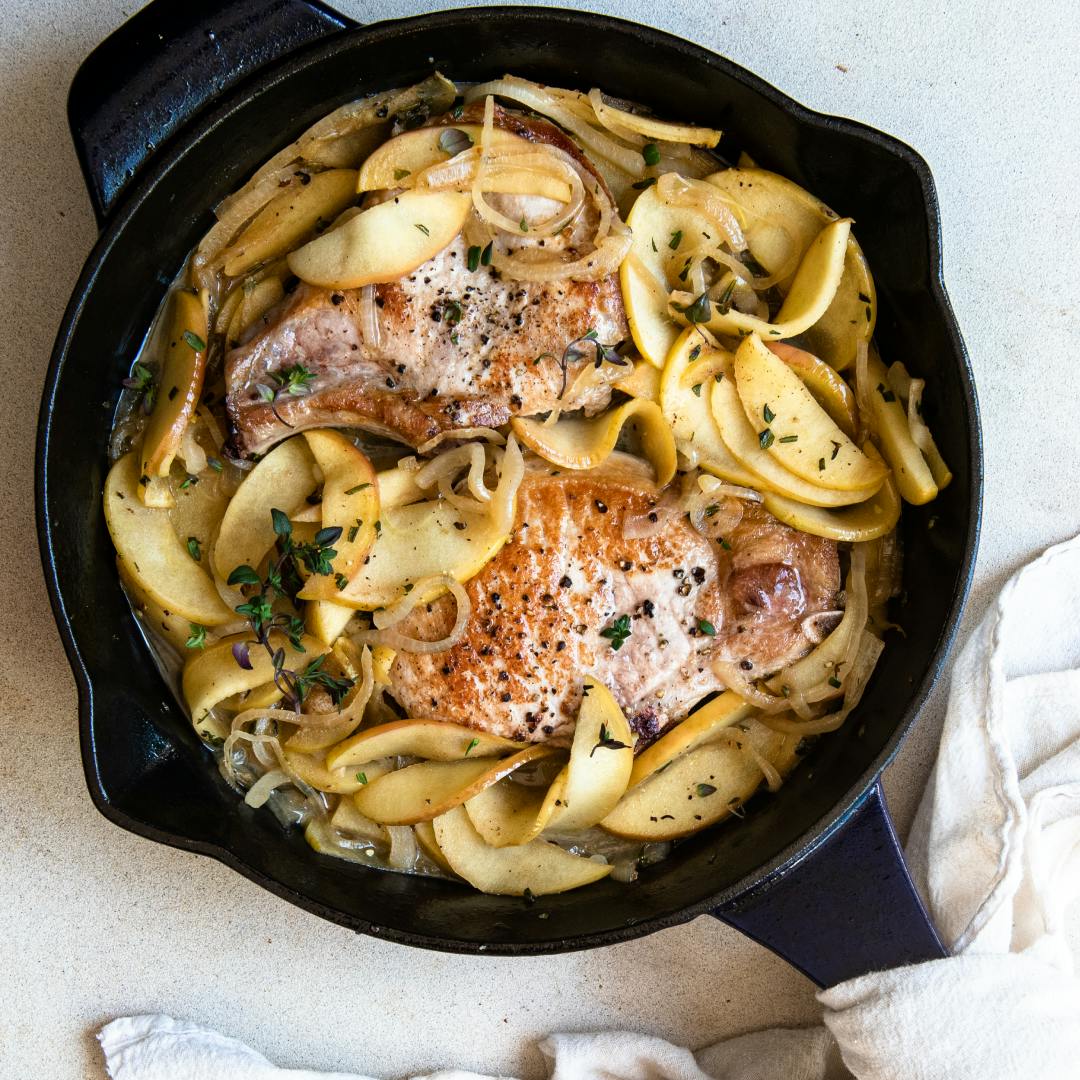 Ingredients: 
4 bone-in pork chops
2 tablespoons of extra virgin olive oil
1 white onion, thinly sliced
2 apples, cored and sliced (like Fuji or Granny Smith variety)
½ cup of white wine or chicken broth
1 tablespoon of fresh sage, finely chopped
Salt and pepper to taste
Directions:
First season each side of the pork chops with salt and pepper. Heat a cast iron skillet over high heat and add olive oil. Add the pork chops, making sure not to overcrowd the pan. If they seem to be too close together, cook them in batches. Leave the pork chops to cook on one side for about three minutes, making sure to get a nice sear. Turn and cook the other side for approximately 5 more minutes. Transfer the meat to a plate and set aside. Add the onions and apples to the pan. Cook until the onions are slightly browned and the apples have softened, about 8 minutes. Add the wine or broth and the sage. Return the pork chops back to the pan. Cook all ingredients together for approximately 12 more minutes, until the pork is tender. Flip the chops halfway through cooking (about 6 minutes), basting them with the liquid and the apple onion mixture. Transfer to a platter and serve!

*For Calibrate Members
Follow Calibrate on Facebook and Instagram to get upcoming recipes!