Tirzepatide vs. Semaglutide: What's the Difference?
Tirzepatide is a dual glucose-dependent insulinotropic polypeptide (GIP) and glucagon-like peptide-1 (GLP-1) receptor agonist (RA) that was recently approved by the FDA for the treatment of type 2 diabetes. The drug is manufactured by Eli Lilly & Co. under the brand name Mounjaro™ and was approved in May 2022. 
Semaglutide, on the other hand, is a glucagon-like peptide-1 receptor agonist, or GLP-1, drug that's available under multiple brand names including Ozempic®, Wegovy®, and Rybelsus®. All three of these are made by Danish pharmaceutical company Novo Nordisk. Ozempic® and Rybelsus® are indicated for type 2 diabetes, whereas Wegovy® is specifically indicated for the treatment of overweight and obesity. 
Both drugs show promise not only in improving metabolic health, reducing hemaglobin A1C (hbA1C), and assisting with weight loss—the data also shows that they may reduce the likelihood of cardiovascular events such as heart attack or stroke and improve cardiovascular outcomes across the board.
Wondering what sets apart a dual GLP-1/GIP receptor agonist and a GLP-1 receptor agonist? Read on to find out the subtle differences between these two medications, the research behind them, and how they work with human biology to support metabolic health. 
Comparing tirzepatide (Mounjaro™) and semaglutide (Ozempic®, Wegovy®)
The below chart outlines some of the key similarities and differences between once-weekly tirzepatide and injectable semaglutide. Of the three brands, Ozempic® has been in use the longest.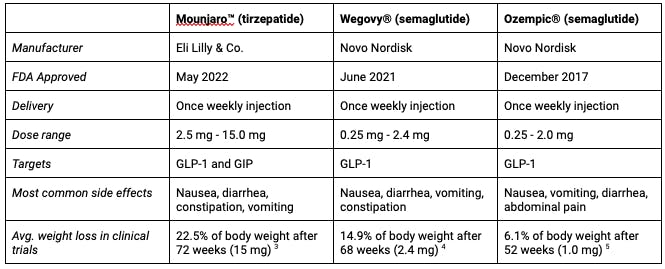 How does Mounjaro™ (tirzepatide) work?
Mounjaro™ (tirzepatide) is a new, injectable medication indicated for use in patients with type 2 diabetes. It's administered subcutaneously once per week with a recommended starting dosage of 2.5 mg. After 4 weeks, doses of tirzepatide may be increased in 2.5 mg increments up to a maximum of 15 mg once weekly.
Mounjaro™ works similarly to the other drugs in the GLP-1 family, but it contains GIP receptor agonist in addition to a GLP-1 receptor agonist. That means it works by imitating not one, but two unique incretin hormones produced by the human body.  
According to a press release published by Eli Lilly, "GIP is a hormone that may complement the effects of GLP-1 receptor agonists. In preclinical models, GIP has been shown to decrease food intake and increase energy expenditure therefore resulting in weight reductions, and when combined with GLP-1 receptor agonism, may result in greater effects on markers of metabolic dysregulation such as body weight, glucose and lipids."
Incretin hormones are released whenever food is consumed. Among other things, they help promote a feeling of fullness by delaying gastric emptying and activating the satiety centers in the brain. They also boost insulin production in the pancreas, and suppress glucagon production, both of which help normalize blood sugars. All of this happens in a glucose-dependent manner, which means incretin hormones—or their imitators, i.e. GLP-1 and GIP receptor agonists—are unlikely to cause severe hypoglycemia. 
 All told, Mounjaro™ and other medications in the GLP-1 family are impactful enough that they can help lower your set point: the weight your body naturally settles at due to an interplay of genetics, biology, and environment. In other words, you'll lose weight and keep it off for the long haul. 
What about your natural incretin hormones? Studies have found that people with overweight or obesity may have a reduction in incretin effects, particularly if they have had frequent weight fluctuations due to yo-yo dieting or if you have undergone bariatric surgery and had weight regain. GLP-1 medication narrows the gap, making it easier to reach your weight loss goals and lower your metabolic set point.
How does Ozempic® (semaglutide) work?
Ozempic® and Mounjaro™ work more or less the same way—by mimicking the incretin hormones that your body naturally produces when you eat food. This means it helps regulate appetite and can lower blood glucose and A1C levels. 
According to the American Diabetes Association, "Ozempic (semaglutide) injection is a once-weekly medication in the GLP-1 receptor agonist class of drugs. It is used in adults with type 2 diabetes, along with diet and exercise, to improve glucose. It is also used to reduce the risk of major cardiovascular events such as heart attack, stroke, or death in adults with type 2 diabetes and known heart disease. It helps to release insulin and lowers the amount of glucose produced by the liver when glucose rises at mealtime. It also slows the absorption of mealtime glucose."
Semaglutide has been studied for over five years and is proven safe and effective both for individuals with type 2 diabetes and for those with obsity or overweight. It is a once weekly subcutaneous injection and is available in doses that begin at 0.25 mg and titrate up to 2.0 mg. The 2.0 mg Ozempic® pen is new, approved by the FDA in March 2022. 
While Mounjaro™ acts on both GIP and GLP-1 receptors, Ozempic® acts solely on GLP-1 receptors. This doesn't mean that Ozempic® is an inferior medication when it comes to improving metabolic health: How well Ozempic® (or any other drug) works for your body depends on a multitude of individual factors, ranging from your genetic profile and health history to your physical predispositions, lifestyle, and preferences. 
You might find, for example, that semaglutide is easier for your body to tolerate and produces fewer side effects (i.e. adverse events) than another "stronger" drug, while still helping you reach your goals at the same pace. The same goes for dosage. Some individuals find that they need to titrate up to the maximum dose of a given GLP-1 drug fairly quickly, while others are able to make progress on the same, lower dose for an extended period. 
Ultimately, your Calibrate doctor will help you determine the best medication for you based on all of the individual factors listed above, while also considering your insurance coverage. Learn more about patient eligibility below.
Why tirzepatide and semaglutide aren't "magic jabs" for weight loss
Like other drugs in the GLP-1 family, Ozempic® and Mounjaro™ are medications that make it easier to lose weight and stick to healthy habits—but they don't produce weight loss on their own.
All GLP-1 and dual GIP/GLP-1 drugs must be used in combination with other tactics to support metabolic health so you can sustain your body weight reductions. These tactics may include modifications to what you eat, how and when you exercise, and other healthy lifestyle changes. 
Calibrate's Metabolic Reset combines GLP-1 medication with evidence-based lifestyle recommendations—the Four Pillars of Metabolic Health—to help participants maximize their success with Ozempic® and other GLP-1 medications. These pillars include:
FOOD: Calibrate's food philosophy will help you find ways to eat more mindfully, while also help establish a sustainable and flexible approach to nutrition that focuses on minimizing fast-digesting carbs and making healthier choices that include fiber, protein, and healthy fats—without restricting or counting calories. These small and sustainable changes to your meal plan won't just work to lower your blood sugar and improve your gut and overall health, you'll also feel more in control of what you eat.
SLEEP: Getting quality sleep is crucial to our brain and metabolic health. But consistency is also key: A 2018 study found a strong correlation between irregular sleep times and an increased risk of cardiometabolic health factors. At Calibrate, you will learn how to develop a schedule to improve sleep quality and minimize cardiometabolic health factors with 7-9 nightly hours of restful sleep. 
EXERCISE: It's no secret that regular exercise can have a ripple effect of benefits on your overall health. Multiple studies show that exercise can improve your heart health, bone health, reduce your risk of cancer and risk of type 2 diabetes, and boost your mood. Calibrate's exercise approach focuses on prioritizing 150 minutes of movement plus two sessions of strength training each week, making it a regular and positive part of the day.
EMOTIONAL HEALTH: We all know what it feels like to be stressed—whether your muscles tense up, your throat tightens, or your heart starts to beat faster, chronic stress can have a lasting impact on your mental and physical health. Unsurprisingly, stress levels can also influence hormones that affect your eating habits, metabolism, and weight. With Calibrate's approach to emotional health, you'll learn how to incorporate science-backed methods to reduce stress and recognize emotional triggers that influence metabolic health.
Calibrate's approach to medical weight loss is rooted in biology and puts metabolic health at the center of every effort—not just the number on the scale. Our program is designed to help you make small tweaks to your food, sleep, exercise, and emotional health habits that are easy to sustain and personalized to your unique circumstances. 
Calibrate members lose, on average, 15% of their body weight after completing their Metabolic Reset. Learn more. 
Tirzepatide versus semaglutide availability: Is Mounjaro™ available to Calibrate members?
Mounjaro™ recently (as of June 2022) began to be distributed across pharmacies in the USA. Calibrate doctors are now prescribing this medication where available and clinically appropriate. Having new, even more effective tools for our members is incredibly powerful and will continue to accelerate the way we change the way the world treats weight.
Wegovy® and Ozempic® (semaglutide) are also currently available and are two of several other GLP-1 medications that Calibrate doctors may prescribe based on your unique needs and health insurance coverage.
When you join Calibrate, you'll complete a Comprehensive Health Intake, including blood work, that your Calibrate doctor will carefully review before customizing your treatment plan and prescribing your medication. You may be eligible for tirzepatide or semaglutide even if you are already taking another type 2 diabetes medication such as metformin.
If your Calibrate medical team determines that Ozempic® or Mounjaro™  is the right fit for you, they'll walk you through all of the details on dosage, how to administer the medication, when to take it, and how it will work alongside your metabolic reset plan. 
Ready to get started with Calibrate? Find out if you're eligible today.
Footnotes
https://www.nature.com/articles/s41591-022-01707-4
https://www.nejm.org/doi/full/10.1056/nejmoa1607141
https://clinicaltrials.gov/ct2/show/NCT04184622
https://www.nejm.org/doi/full/10.1056/NEJMoa2032183
https://www.ozempic.com/why-ozempic/what-is-ozempic.html#weight
https://www.ncbi.nlm.nih.gov/pmc/articles/PMC3631884/
https://pubmed.ncbi.nlm.nih.gov/23859800/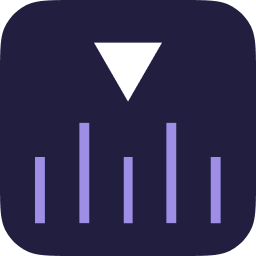 Calibrate
We're a modern, medical approach that combines doctor-prescribed medication with 1:1 accountability coaching—all personalized to your biology, your goals, and your life for a metabolic reset that lasts and 10% Weight Loss Guaranteed (see terms).