Recipes for a Reset: September 2020
Just like your weight, healthy eating isn't about willpower—it's about tuning into the foods and behaviors that work best with your biology. This means a sustainable approach that's based on a shift away from sugars and simple carbs (which spike your blood sugar and cause your body to hoard calories) and a shift toward protein, healthy fats, and fiber (which keep your blood from surging while also promoting satiety). Together, this helps you to rewire your metabolic system so that your body will stop hoarding calories, allowing you to lose weight and improve your health.
Calibrate's Food Expert Stephanie Middleberg, MS, RD, CDN, has developed countless recipes to help make these shifts as easy as they are delicious. Here's a simple menu that bridges end-of-summer and early fall, and gets you from breakfast to dinner.
BREAKFAST
Pomegranate Pistachio Parfait
Makes 1 serving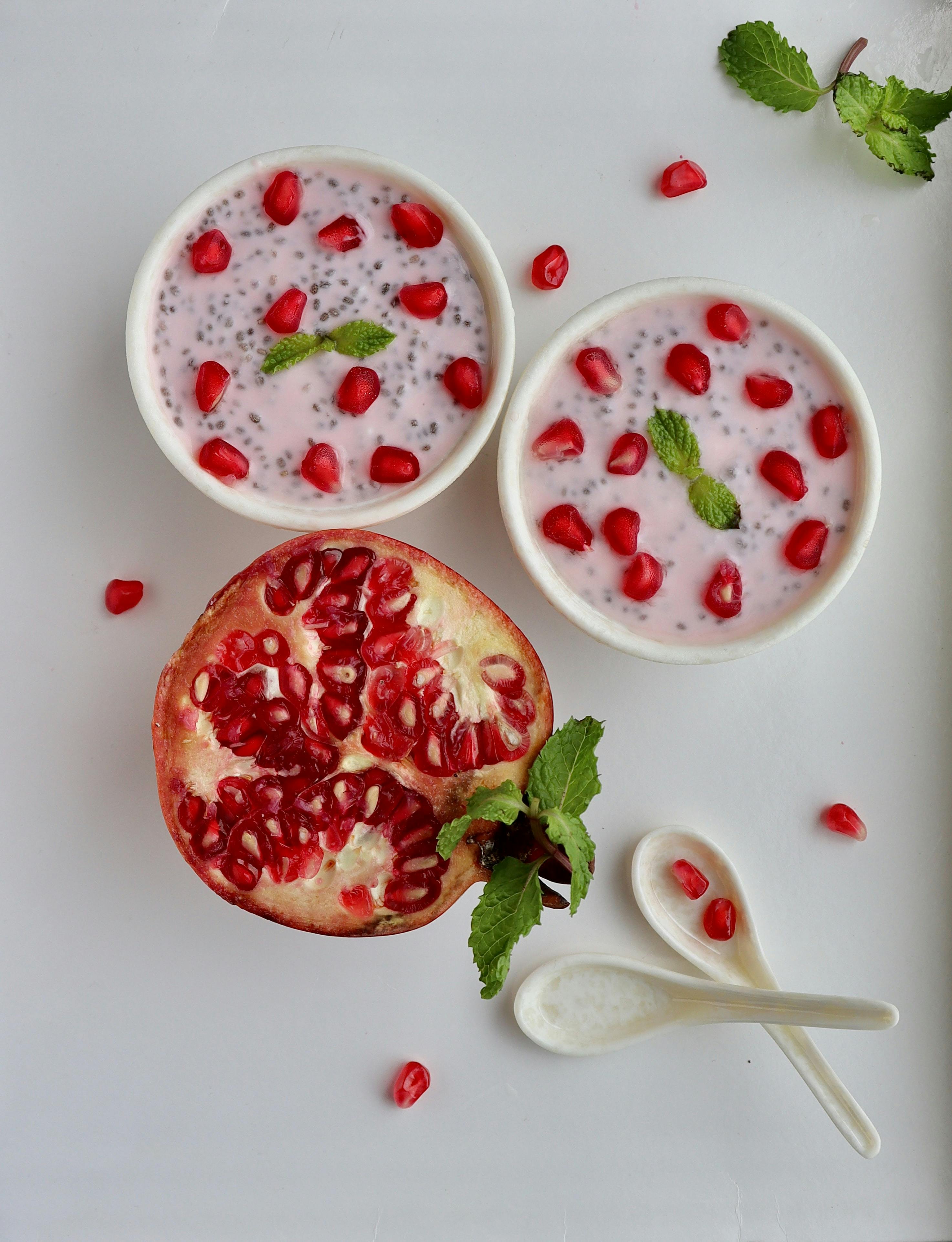 This parfait looks (and tastes!) like a dessert, but its combination of yogurt, nuts, chia seeds, and fruit delivers plenty of protein, healthy fat, and fiber—the three essential elements you need to keep your appetite and blood sugar in check for the hours to come. Chia seeds, in particular, are a not-so-secret weapon here. They're high in protein, are 85% fiber, and contain heart-healthy omega-3 fats. 
Ingredients: 
1 cup Greek or non-dairy yogurt
2 tablespoons pomegranate seeds
2 tablespoons chia seeds
1 tablespoon chopped pistachios
1/4 teaspoon cardamom
Directions: 
Mix together in a glass or serving bowl. Refrigerate or eat immediately.
LUNCH                                       
"Creamy" Mint Pea Soup
Makes 4 servings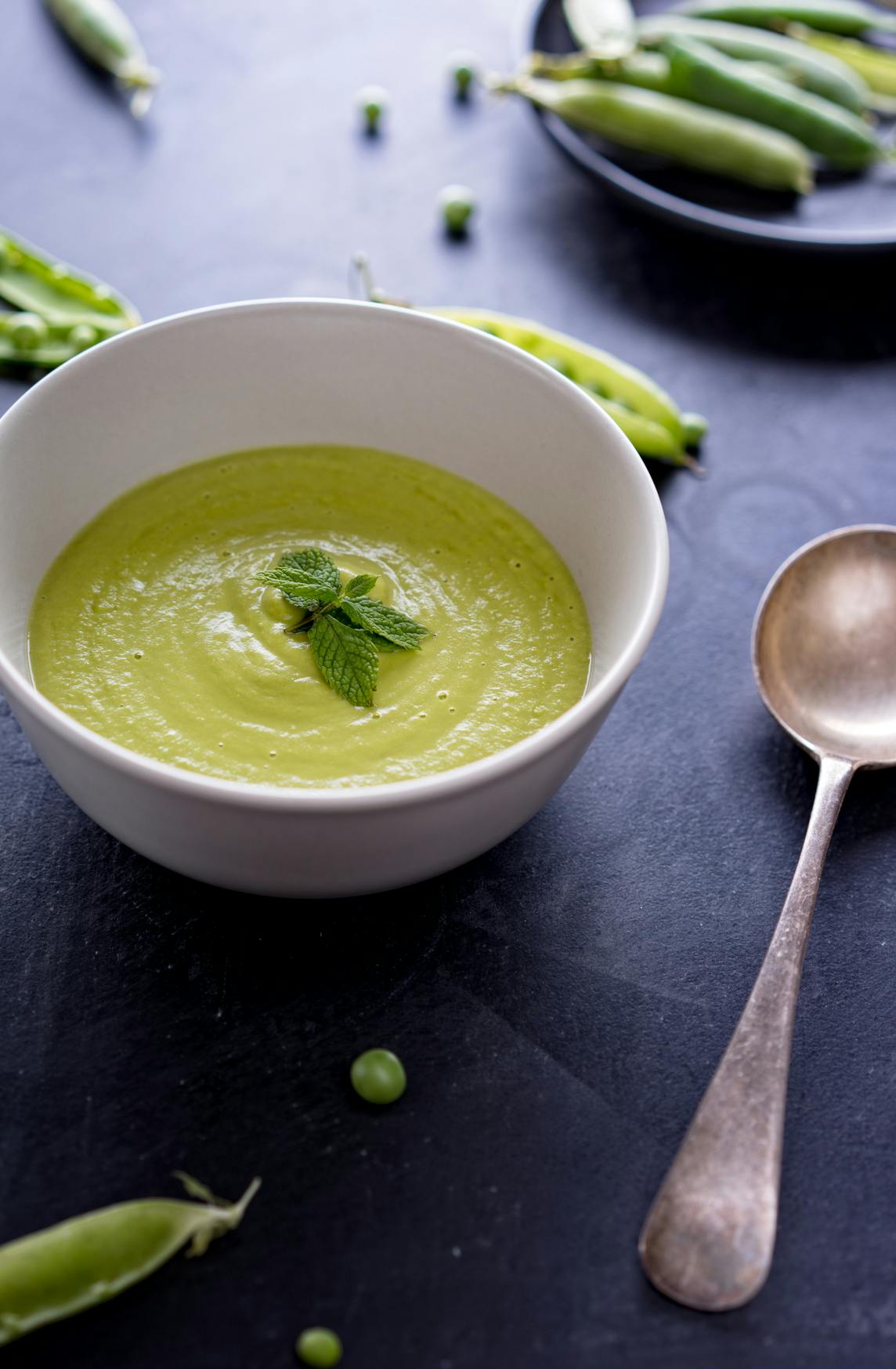 Peas are a great source of fiber and plant-based protein, and this "creamy" vegan soup couldn't be easier to make. Pair it with a side of protein to keep you full and satisfied throughout the afternoon. If you eat meat or fish, try a piece of salmon, some roast chicken. If you're vegetarian or vegan, add ¼ cup hemp hearts, roasted chickpeas, or pumpkin seeds directly to each serving of soup right before serving.
Ingredients: 
1 Tbsp olive oil 
1 small chopped onion
1 chopped clove of garlic 
1 10 oz bag of frozen peas (thawed)
2 Tbsp fresh mint 
2 cups unsweetened nut milk 
Juice from 1 lemon
Salt & pepper to taste
Directions: 
Heat the oil in a large skillet over medium heat. Add the onion and cook for 2 minutes or until tender. Add the garlic, and cook for 30 seconds. Add the peas, and cook for 3-5 minutes or until tender. Season to taste with salt and pepper. Remove from the heat, and stir in chopped mint. Transfer to a blender or food processor. Add the milk and lemon juice, and puree until smooth. Adjust seasoning as needed. Serve garnished with mint sprigs. 
DINNER
Leek & Mushroom Veggie Frittata 
Makes 4 servings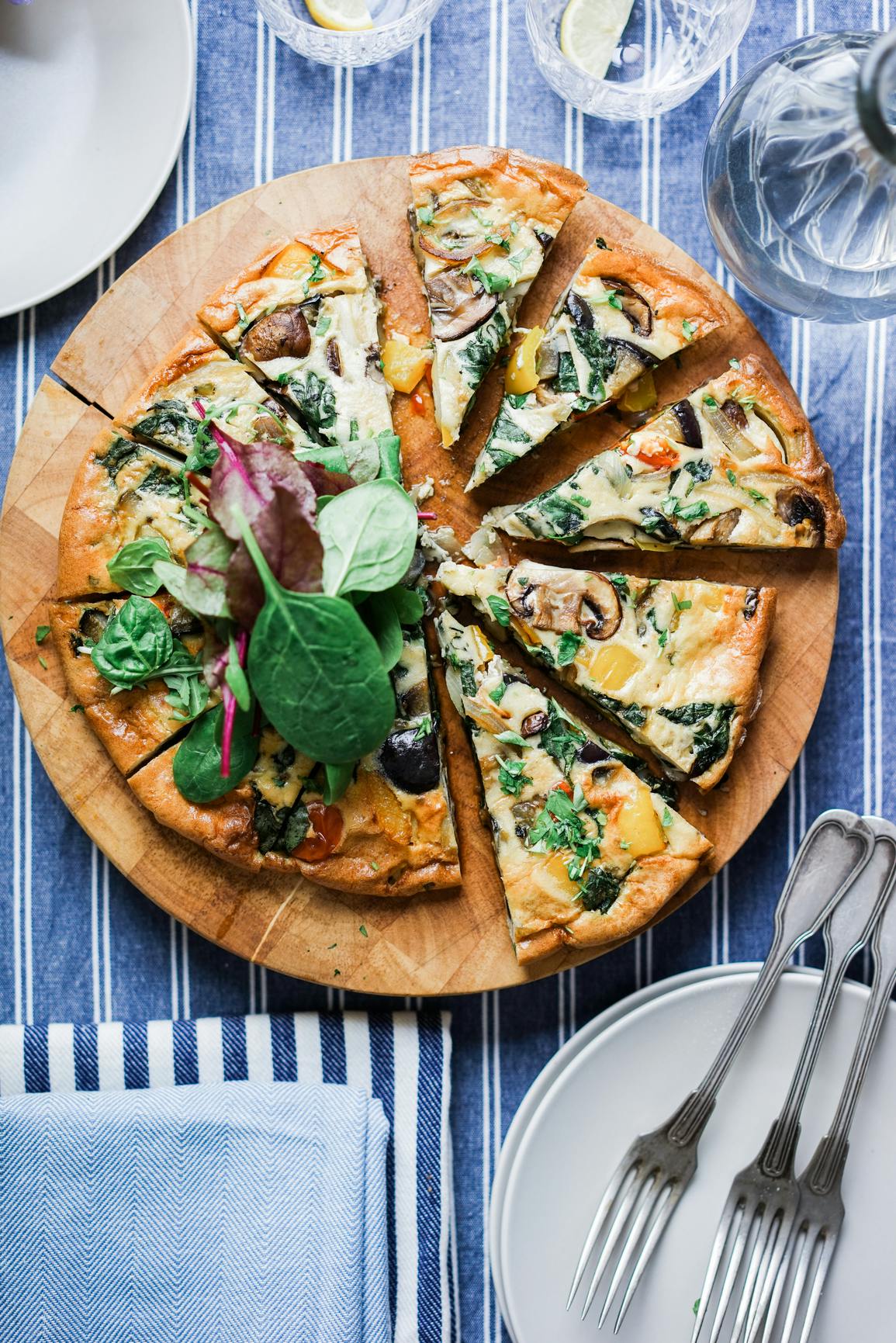 Packed with fiber and protein, this frittata takes only about 15 minutes to prepare—making it the perfect one-dish weeknight meal. The asparagus, spinach, mushrooms, and leeks mean you're getting a good range of nutrients, too.      
Ingredients:
1 bunch asparagus, chopped into 1/2-inch pieces
1 Tbsp olive oil
1 leek, chopped into 1/2-inch pieces
1/2-1 cup (1 handful) spinach, chopped
4 oz. mushrooms, chopped
6 eggs
1/2 cup milk (dairy or nut milk)
Salt and pepper to taste
Directions:
Preheat the oven to 425. Toss the asparagus with 1 Tbsp olive oil and roast for 6-8 minutes. In a pan, sauté the leeks, mushrooms, and spinach until soft. In a large bowl, combine the roasted and sautéed veggies. In a separate small bowl, mix the eggs, milk, and 1 tsp each salt and pepper. Coat the baking pan with olive oil and place the veggies in a pan. Pour the egg mixture on top. Bake for 15-20 minutes or until the eggs are cooked through.
Follow Calibrate on Facebook and Instagram to get upcoming Recipes for a Reset!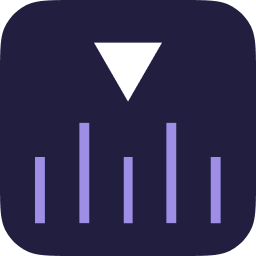 Calibrate
We're a modern, medical approach that combines doctor-prescribed medication with 1:1 accountability coaching—all personalized to your biology, your goals, and your life for a metabolic reset that lasts and 10% Weight Loss Guaranteed (see terms).