Recipes for a Reset: September 2021
To help you enjoy the last bit of summer, we asked Calibrate Food Expert, Stephanie Middleberg, MS, RD, CDN, to share four recipes for breakfast, lunch, and dinner.
BREAKFAST
Strawberry Watermelon Smoothie
Serves 2
Yellow-Green*
Gluten-free, Vegan

This refreshing smoothie makes for the perfect light end-of-summer breakfast. Watermelon is approximately 90% water and contains natural electrolytes like potassium, which will help keep you hydrated in the heat. Strawberries, for their part, are packed with vitamin C, an antioxidant that helps prevent skin aging and also boosts immune function. Serve alongside scrambled eggs and avocado, or an omelet of your choice.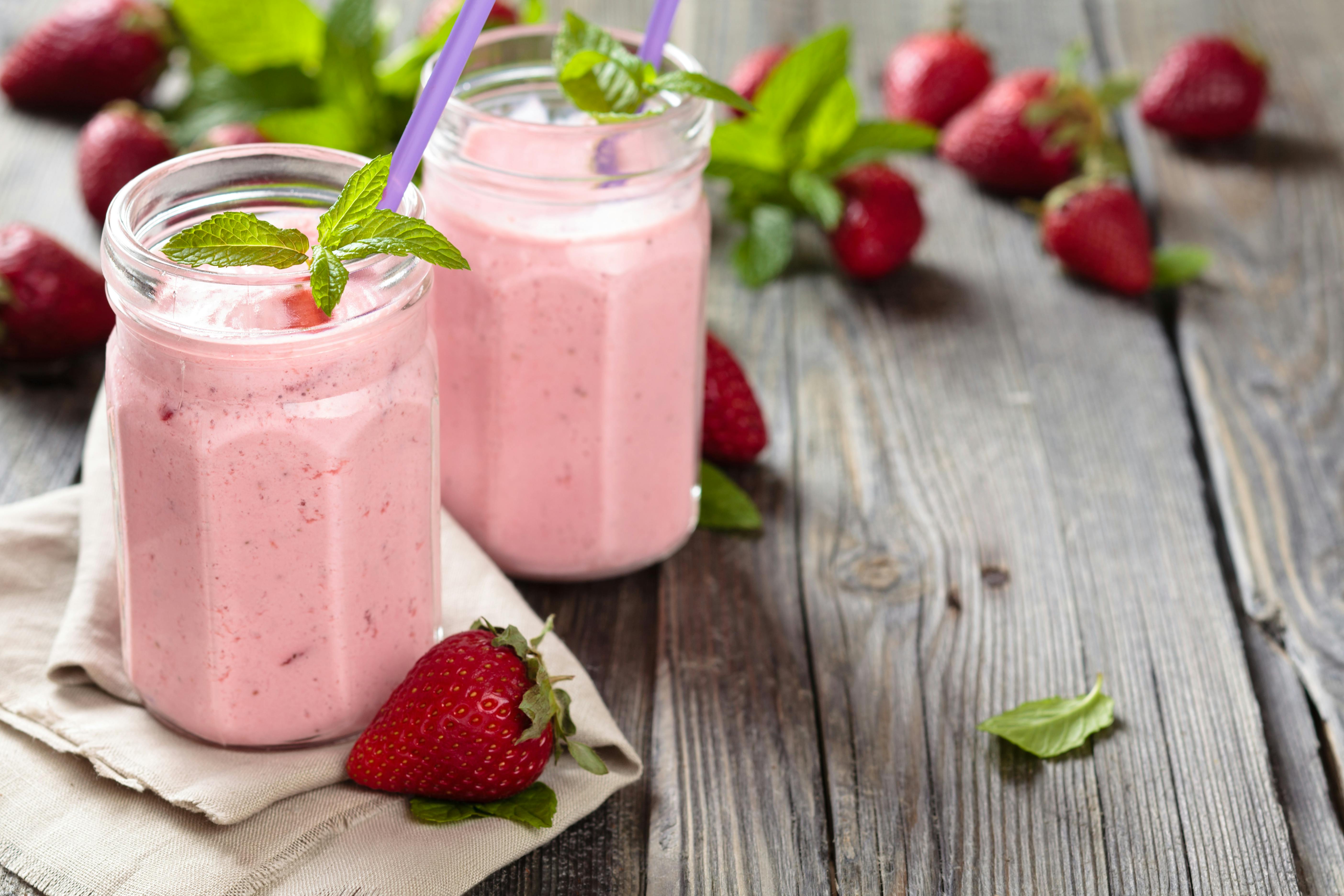 Ingredients:
1 ½ cups of watermelon, seeds removed
1 cup of frozen strawberries
3/2 cup of plant-based milk, like almond
1 lime, juiced
Directions:
Add all ingredients into a blender. If the smoothie seems too thin, add ice or more frozen strawberries. If it's too thick, add more milk. This smoothie is best served fresh—enjoy!

LUNCH
Summer Black Bean & Corn Salad
Serves 4-6
Yellow-Green*
Vegan, Gluten-free

This summer salad makes the most of seasonal produce by using ingredients like fresh corn and bell pepper. Black beans give this dish a healthy dose of fiber, as well as protein.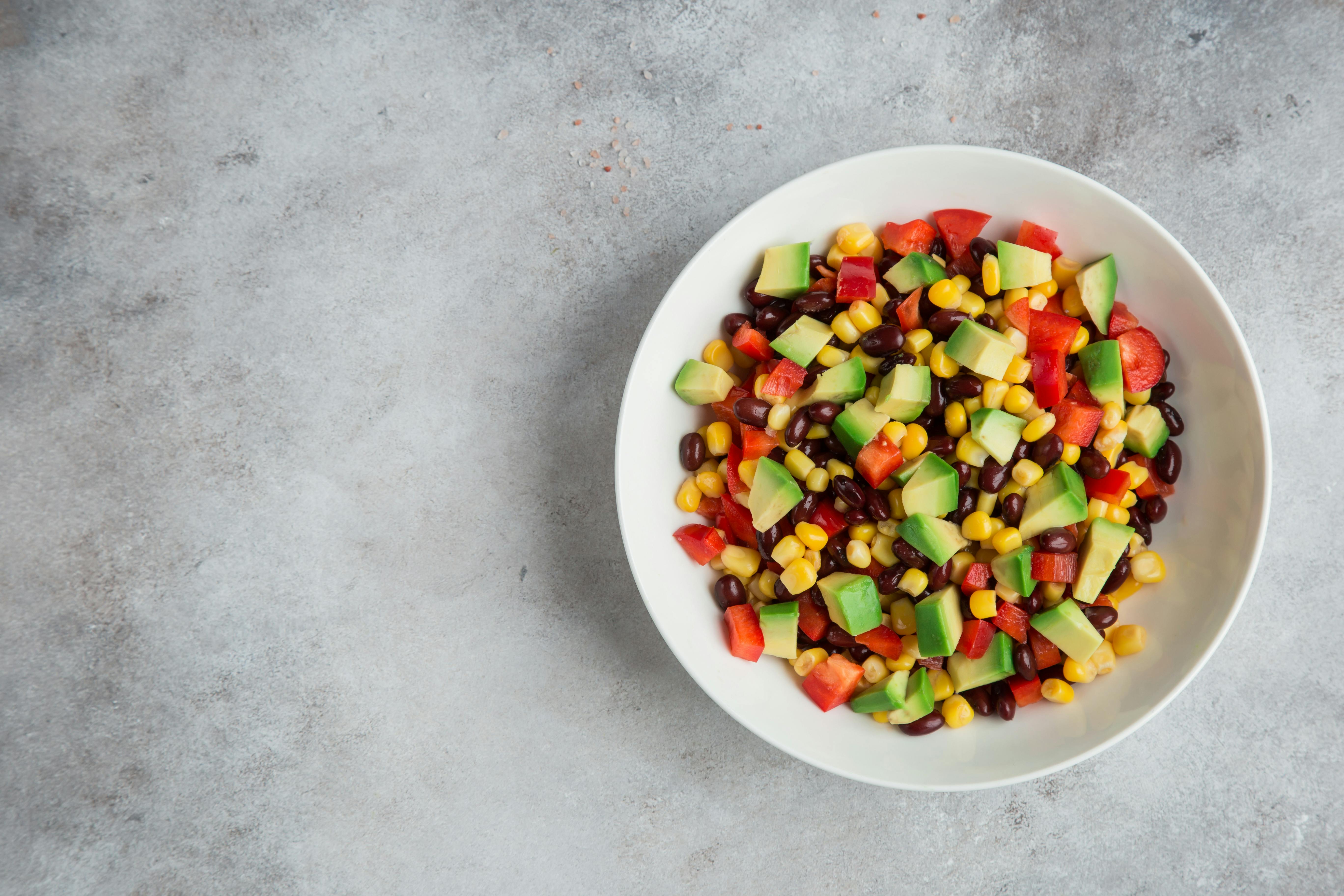 Ingredients:
For the dressing:
¼ a cup of fresh lime juice
3 tablespoons of extra virgin olive oil
1 garlic clove, minced
½ teaspoon of cumin
Salt and pepper to taste
For the salad:
1 ⅓ cup of canned black beans, drained and rinsed
1 ½ cups of fresh corn kernels, raw or cooked
1 red bell pepper, diced
½ cup of cilantro (stems and leaves), roughly chopped
1 jalapeno, seeded and diced (optional)
1 avocado, diced
3 tablespoons of feta cheese (optional)
Directions: 
In a large mixing bowl, make the dressing. Whisk together the lime juice, oil, garlic, cumin, salt, and pepper. To the same bowl, add the beans, corn, bell pepper, cilantro, jalapeno, and red onion. Mix together. Add the avocado, crumble in the feta, and gently toss together the ingredients. Taste and adjust the salt and pepper, if necessary.

DINNER
Zucchini Turkey Burgers
5 burgers
Yellow*
Dairy-free

A great way to make juicy, nutritious turkey burgers is to add zucchini! These burgers are not only packed with satiating protein but have the added benefit of vegetables as well. Zucchinis are a water-rich vegetable that contains antioxidants called carotenoids which help protect the eyes, skin, and heart. These carotenoids may also protect against certain types of cancer.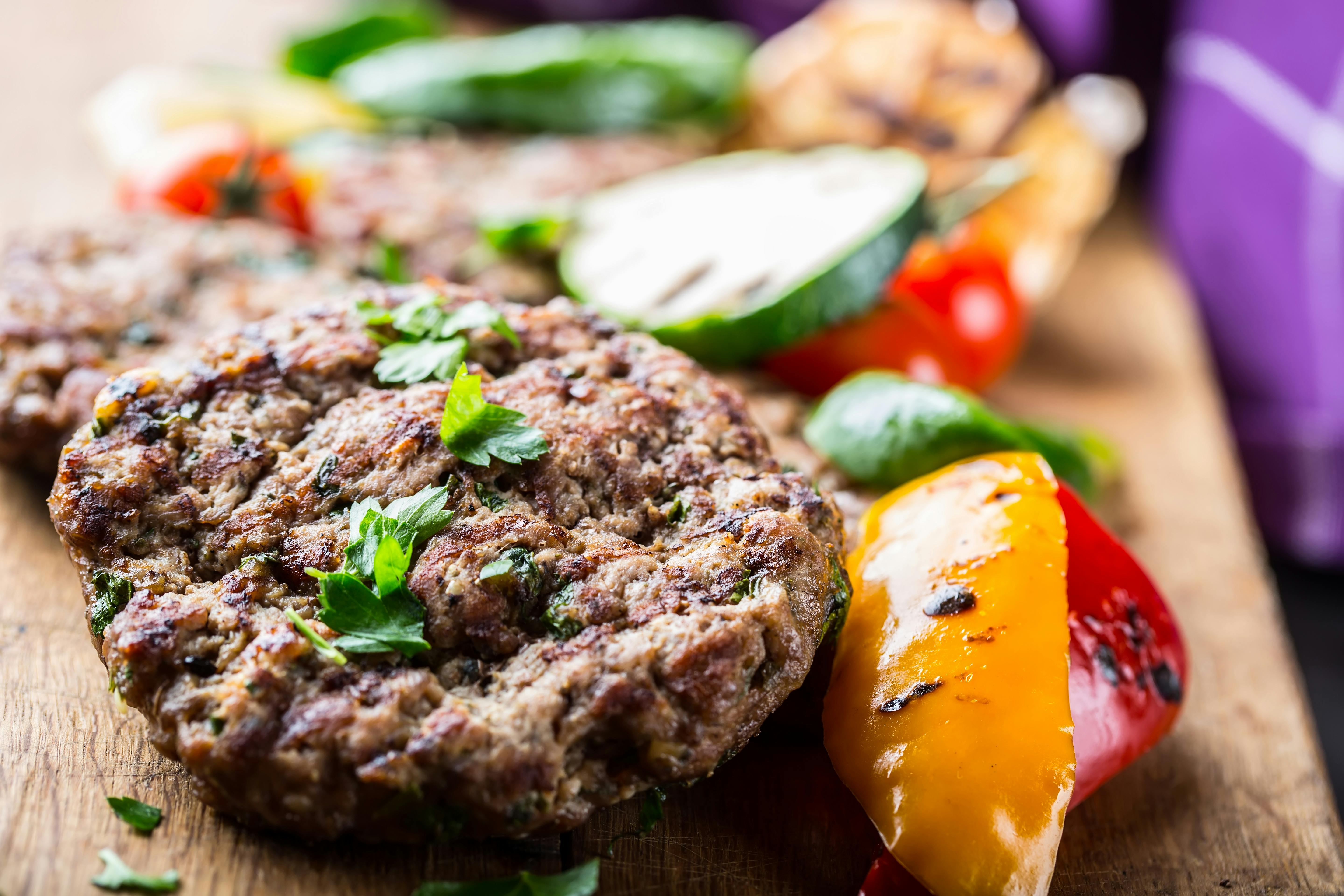 Ingredients: 
¾ cup of zucchini, grated and squeezed
1 lb of ground turkey
¼ cup of seasoned whole-wheat breadcrumbs
1 clove of garlic, grated
1 tablespoon of red onion, grated
Salt and pepper to taste
Oil for cooking
Directions:
With a kitchen towel (or paper towel), squeeze out as much moisture from the zucchini as possible. In a large bowl, add the zucchini, turkey, breadcrumbs, garlic, onion, salt, and pepper. Form five patties, trying to make them similar in size so they all cook evenly. Heat a large nonstick pan over high heat. Add a little oil and place the burgers in the pan, being careful not to overcrowd the pan. This will likely have to be done in a few batches. Cook the burgers on one side until browned, and then flip. 
A few additional tips: If the other side seems to be burning, flip onto the other side until burgers are cooked through. If you're grilling the burgers, spray the grill with oil and cook the burgers over medium heat for about five minutes on each side and serve.
Peach & Tomato Caprese
Serves 6
Yellow-Green*
Vegetarian, Gluten-free

This dinner side epitomizes summer with juicy peaches, ripe tomatoes, fresh mozzarella, and fragrant, sweet basil. Tomatoes contain the antioxidant lycopene, which helps protect the skin from sun damage and types of cancer such as bone, lung, and prostate, while mozzarella is rich in calcium and high in protein. Peaches, for their part, contain the antioxidant beta carotene. Beta carotene helps protect the skin from harmful UV rays and may even create a natural glow that warms the skin tone!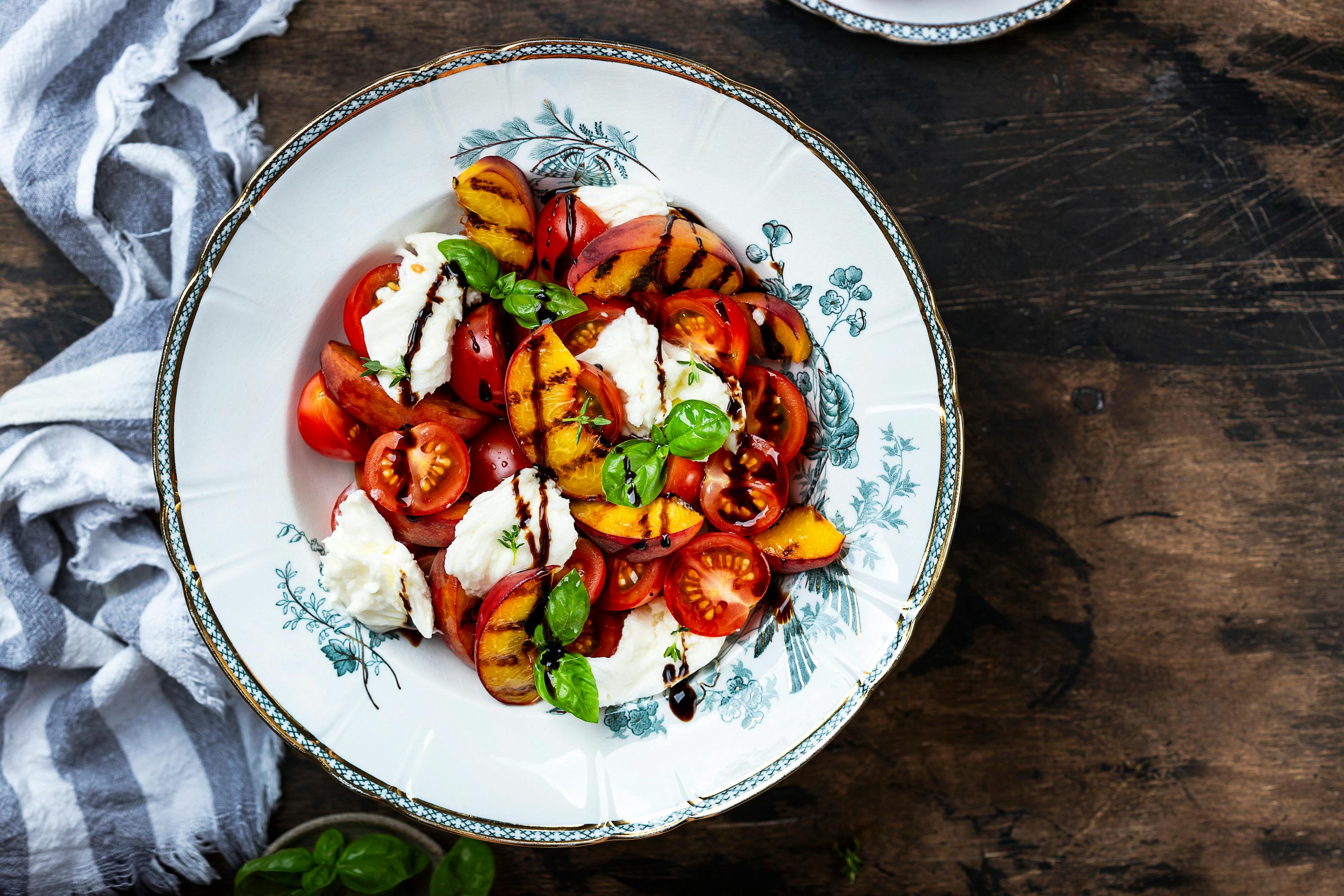 Ingredients:
For the dressing:
½ cup of white balsamic vinegar
1 garlic clove, minced
3 tablespoons of extra virgin olive oil
Salt and pepper to taste
For the salad:
2 fresh peaches, cut lengthwise into 1-inch pieces
2 lbs of tomatoes (heirloom are delicious for this), cut lengthwise
4 tablespoons of basil, chopped
8 ounces of fresh mozzarella, cut lengthwise
Salt and pepper to taste
Directions:
In a large bowl, make the dressing. Whisk the vinegar, garlic, oil, salt, and pepper until combined. Add in the peaches, tomatoes, and basil. Gently toss the ingredients with the dressing. Add the mozzarella and mix. Season with more salt and pepper, if desired. Transfer the salad to a serving platter and enjoy!
*For Calibrate Members
Follow Calibrate on Facebook and Instagram to get upcoming recipes!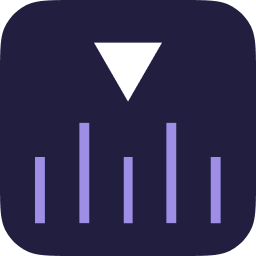 Calibrate
We're a modern, medical approach that combines doctor-prescribed medication with 1:1 accountability coaching—all personalized to your biology, your goals, and your life for a metabolic reset that lasts and 10% Weight Loss Guaranteed (see terms).