MENOPAUSE WEIGHT GAIN: CAUSES, SOLUTIONS & WHAT TO KNOW
Summary: 
Menopause, or the point at which menstruation stops, typically occurs between the ages of 45 and 55
Weight gain is a common complaint in women who are undergoing perimenopause and menopause
On average, women gain 5 lbs over the course of the menopausal transition—however, studies have found that the weight gain is more likely related to aging and changes in lifestyle than to specific menopausal hormone changes
Menopausal hormonal changes are associated with an increase in total body fat, a decrease in muscle mass, and an increase in abdominal fat (belly fat)
While common, weight gain during menopause is not inevitable and with the right approach, it can be reversed
Calibrate's One-Year Metabolic Reset provides a framework for sustainable menopause weight loss that tackles all of the factors influencing metabolic health, including food, sleep, exercise, and emotional health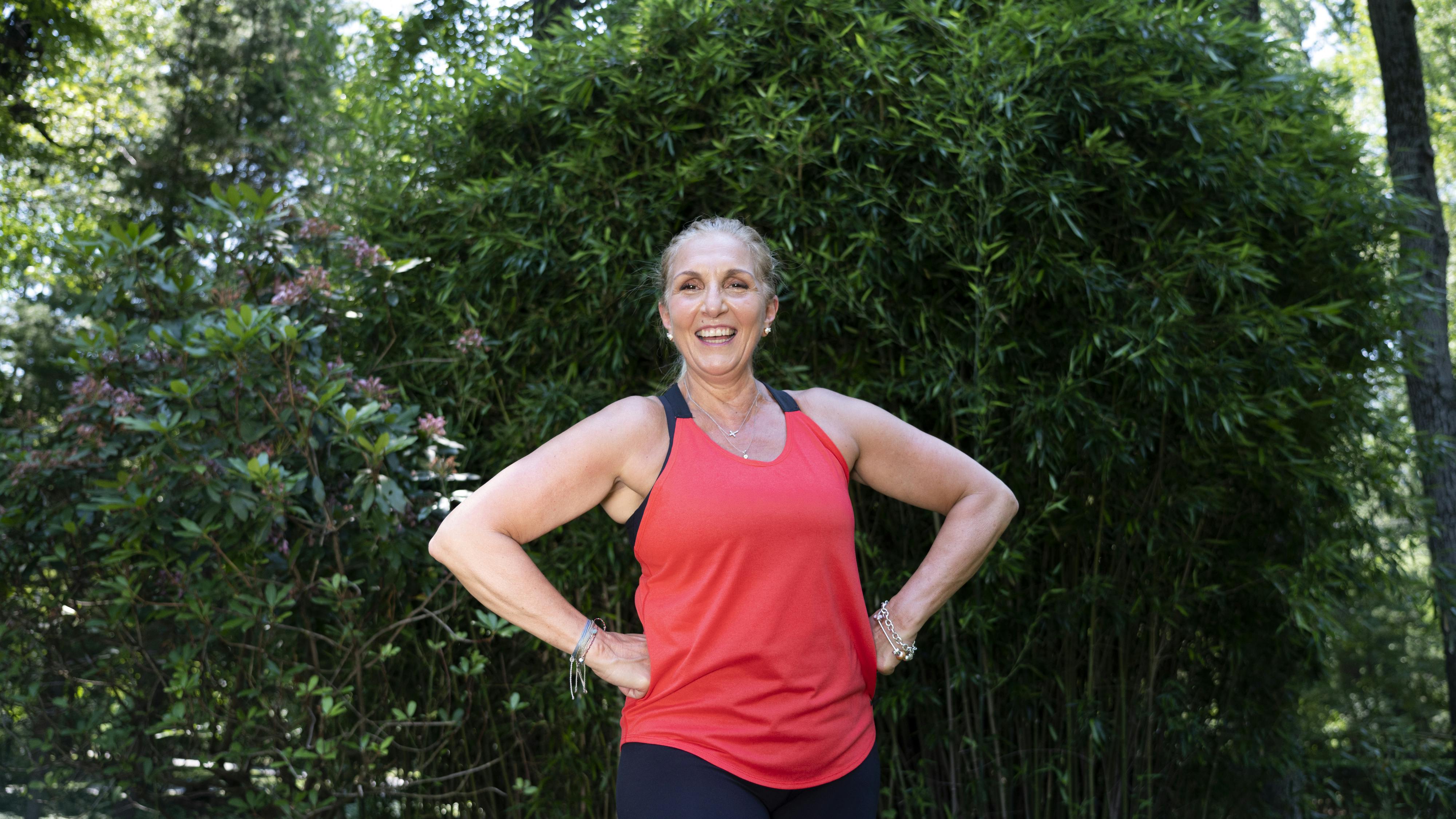 Menopause is a natural event that occurs in every woman's life, usually taking place at some point between ages 45 and 55 (the average age in the US is 51). 
Menopause triggers a cascade of symptoms, including hot flashes, night sweats, sleep disturbances, mood swings, thinning hair, dry skin, and vaginal atrophy. For some, these symptoms are mild and barely noticeable, while others experience an onslaught of symptoms that can severely impact their quality of life. 
Weight gain is among the most common complaints during menopause. On average, women gain 2-5 lbs during the perimenopausal transition (the years leading up to menopause), but those with overweight or obesity are at risk of gaining more and experiencing more severe menopausal symptoms overall. 
The weight gain that occurs during menopause can be challenging. One Calibrate member, Ali, said she was always able to manage her weight, but after undergoing a partial hysterectomy that triggered perimenopause, she began to gain weight no matter how much she exercised or how much she restricted her diet. 
Another Calibrate member, Ruth, experienced something similar: Following a hysterectomy due to endometriosis, she explained that she had no energy and was gaining a lot of weight. 
This underscores once again that weight loss isn't about willpower—it's about biology. While we are unable to change our genetics, we can influence our environment and how our biology responds to it to help lower our set point (the weight our body fights to maintain) and improve metabolic health. 
What causes weight gain during menopause? 
Weight gain during menopause has long been suspected to be linked to fluctuation in the hormonal milieu that, in premenopausal women, regulates the menstrual cycle. However, some studies have found that menopausal weight gain may have more to do with aging in general than with hormonal changes.
What we do know with certainty is that menopause is associated with changes in body composition and fat distribution: Women going through menopause are more likely to accumulate fat centrally, in the abdominal area. In fact, both aging and menopause are associated with changes in adipose tissue (body fat) metabolism.
According to one study, abdominal obesity is associated with increased cardiovascular disease (heart disease) risk, increased metabolic disease risk, increased cancer risk, sexual dysfunction, and poorer health-related quality of life.  
Menopausal women are also more likely to experience a reduction in muscle mass.
These two specific changes are suspected to be hormone-driven. When you enter perimenopause, estrogen levels (specifically, estradiol) begin to decline—as do progesterone and even testosterone, all of which play a key role in your body's day-to-day functioning. Estrogen doesn't just influence the reproductive system: It also plays a key role in the urinary tract, the pelvic floor muscles, heart and blood vessels, bones, breasts, skin, hair, and even the brain.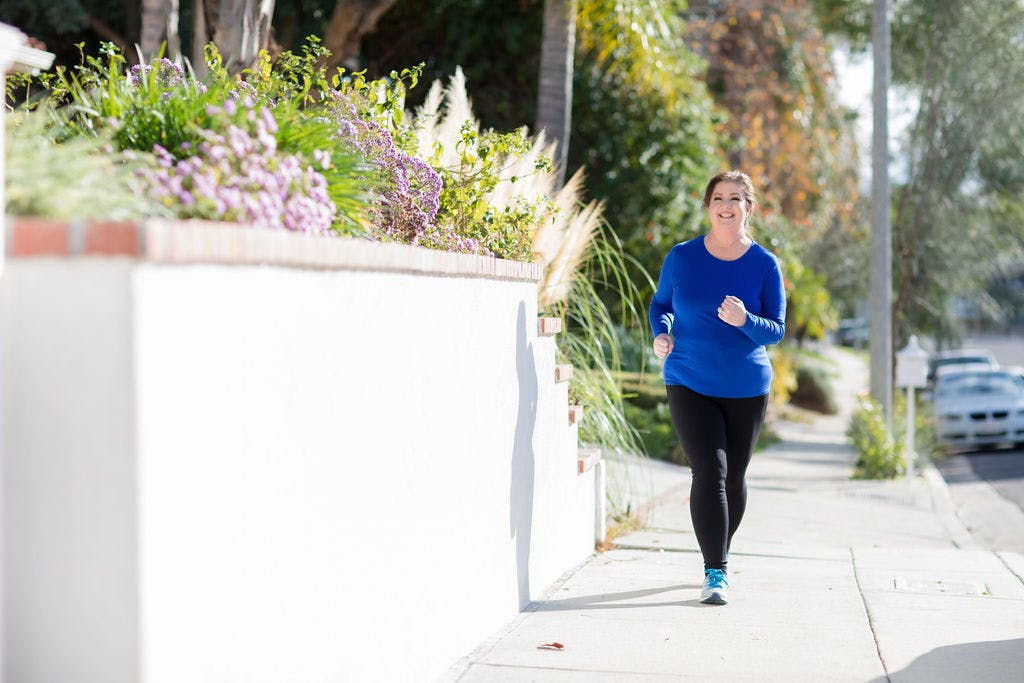 Further, estrogen is speculated to play a role in the regulation of blood sugar levels, and it may promote the production of certain enzymes that break down fat cells. When estrogen (estradiol) drops, these processes slow down significantly. 
This drop in estradiol is associated with several other menopause symptoms, including hot flashes, irregular menstrual periods, irritability, and depression.  
All told, the effects of menopause are multiple and are not easy to cope with. The good news is that there are several interventions that can make menopause symtoms more bearable—and even put an end to weight gain. 
Is it possible to lose weight during or after menopause?
Yes! It is entirely possible to lose weight before, during, and after menopause, whether or not the weight was gained as a result of menopause. Many of the same basic principles apply, i.e. try to improve your eating habits, get more sleep, and exercise more frequently. 
Moderate strength training will help combat the loss of muscle tone and may even improve bone density in menopausal women. Aerobic exercise is also beneficial: Hiking, dancing, cycling, jogging, and swimming are just a handful of examples. Keep in mind that your body becomes less flexible and more prone to injury as you age, so be sure to warm up slowly and carefully before any type of physical activity. 
What about food? First, focus on reducing processed foods and fast-digesting carbohydrates like sugary snacks, soft drinks, and white bread. Swap these items out for nutrient-dense whole foods, with an emphasis on fresh vegetables, healthy fats, and lean protein. 
There are several dietary recommendations specific to menopausal women that can help with weight loss while also improving other symptoms:
Increase the quantity of calcium-rich foods in your diet, such as milk and milk products, nuts and seeds, beans, green leafy vegetables for the maintenance of bone health. At the same time, try to reduce your intake of red meat and carbonated beverages as these inhibit calcium absorption.
Increase your intake of iron-rich foods (such as whole grain cereals, lean meat, eggs, spinach, nuts, and seeds) and magnesium-rich foods (green leafy vegetables, nuts and seeds, legumes) to relieve symptoms such as hot flashes, insomnia, palpitations, and irritability.
Increase your intake of foods rich in phytoestrogen, especially soybean, to both alleviate menopausal symptoms and promote bone health.
Avoid spicy foods, alcohol, and caffeine to help prevent hot flashes. 
Hormone replacement therapy & weight loss
If your menopause symptoms are severely disrupting your quality of life, your healthcare provider may prescribe hormone replacement therapy (HRT). This could involve the use of either estrogen alone or alongside another progesterone (or progestin in its synthetic form). 
Could hormone replacement therapy help with weight loss during menopause? It's possible. 
One study found that combined HRT may not only help prevent menopause-related weight gain, but may also favor weight loss by "significantly increasing lipid oxidation after 3 months of treatment" in menopausal women with obesity. "It also favourably influenced the insulin response, plasma lipids and energy expenditure," the researchers note. 
To learn more about HRT and explore your options, talk to your healthcare provider. 
How Calibrate's One-Year Metabolic Reset can reverse menopause weight gain
Calibrate built its One-Year Metabolic Reset to help reprogram the metabolic system. The program combines safe and effective doctor-prescribed GLP-1 medication with small but impactful lifestyle changes—including what foods you eat, how you sleep, how much you exercise, and how your emotional health is supported. 
These areas comprise our Four Pillars of Metabolic Health. They are scientifically proven to lead to improved metabolic health followed by weight loss. Since metabolic changes are a common side effect of menopause, the Calibrate program is uniquely positioned to tackle menopause-related weight gain from all angles. 
One of those angles is sleep—something that women going through menopause frequently struggle with. We now know that sleep plays a crucial part in maintaining weight, and if we are unable to get the recommended 7-9 hours of sleep per night, we risk an increased appetite plus more cravings for calorie-dense foods high in carbohydrates. 
With Calibrate, you'll work with a dedicated coaching team, participating in 1:1 sessions to keep you accountable to your Calibrate curriculum goals while enacting strategies to improve your sleep (yes, even with hot flashes!) and create new habits so that the changes you make will be sustainable.
Menopause is also linked to increased stress levels, which can have a serious impact on our emotional health. Because Calibrate's program focuses not just on weight loss, but on all the factors that influence metabolic health, Ruth was able to tackle and improve both her sleep and emotional health—improving her overall energy along with her weight.
To date, Ali has lost 10.2% of her body weight and says she has a greater mindfulness in regard to her emotional relationship with food. Ruth, who has now completed the program, lost 22% of her body weight.
We know that menopause can be isolating, and that starting a wellness journey can be overwhelming. If you are going through perimenopause or menopause and feel that your weight is impacting your metabolic health, reach out to hello@joincalibrate.com for more information on how our One-Year Metabolic Reset can help you achieve real results and a new day-to-day.
Ready to get started? Find out if you're eligible today.
Footnotes: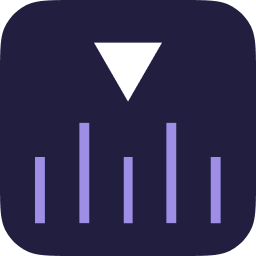 Calibrate
We're a modern, medical approach that combines doctor-prescribed medication with 1:1 accountability coaching—all personalized to your biology, your goals, and your life for a metabolic reset that lasts and 10% Weight Loss Guaranteed (see terms).